Farmer's Daughter: MoDak Open House
Posted: 6/6/2016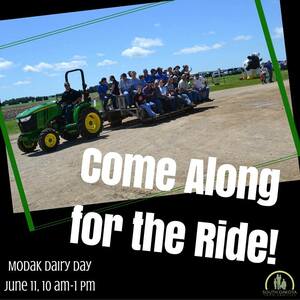 This week we are continuing our celebration of June Dairy month with an open house near Watertown. MoDak dairy near Kranzburg is just one of nearly 300 dairy farms in South Dakota that work to get our favorite dairy products to the table. This summer the dairy is celebrating their 25th anniversary and we're excited to help the Moes family show off their farm.
This fun, family friendly event will begin at 10am on Saturday June 11. There will be guided tours of the farm, where guests can see where the cows live, what they eat, and how they are milked. There will also be an opportunity to pet baby calves! Children's performer Phil Baker will be singing at 11:00 and noon, and free grilled cheese sandwiches and ice cream are on the menu for lunch.
MoDak Dairy milks more than 2,000 cows three times each day, and takes pride in being a family run business. Brothers Jim and Greg along with Greg's wife Julie, own the farm and are in the process of transitioning the farm to the next generation. In July, 2016 the family will celebrate the 25th anniversary of MoDak Inc, however the family has owned and farmed the ground MoDak dairy is built on since 1894. John and Elizabeth Moes were the first generation to work on the farm, and currently the fifth generation is carrying on the tradition. The farm has grown and changed over the past 122 years, but the values of hard work and family have remained the same.
If you've ever wondered how milk gets from the cow to your refrigerator this is the perfect opportunity to learn. Information about the open house and other events can be found at www.agunited.org See you this Saturday!
Listen to this week's radio segment here: FARMERS_DAUGHTER-JUNE_6TH_2016.mp3