Farmer's Daughter: June = Dairy Month!
Posted: 5/31/2016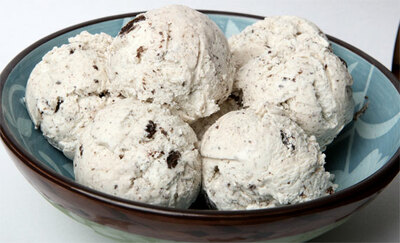 My favorite dairy treat... SDSU Cookies and Cream ice cream. Photo via sdstate.org
It's hard to believe that June is right around the corner. For many people June means baseball games, grilling, and swimming. Here at South Dakota Farm Families June means Dairy Month!
All month long we'll be celebrating dairy and dairy farmers in South Dakota. This June we will be hosting three open houses and a bus tour featuring local dairy farms.
Ag United has hosted open houses in honor of June Dairy Month since 2008, giving thousands of South Dakota families the opportunity to meet dairy farm families and learn about this important industry. South Dakota dairy farms produce about 246 million gallons of milk and generate about $427 million in milk sales each year. These events are sponsored in part by South Dakota Farm Families and Ag United, Midwest Dairy Association and South Dakota soybean farmers and their check-off.
We hope you'll join us in celebrating Dairy this June!
Listen to this week's Farmer's Daughter Radio Segment here: FARMERS_DAUGHTER-MAY_30TH.mp3