Farmer's Daughter Guest Blogger: Ana Ruiz
Posted: 2/26/2016
Our guest blogger for February is Ana Ruiz. A dairy girl at heart, Ana shares how she's staying involved with the industry.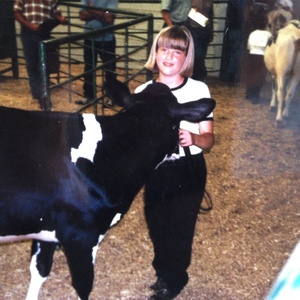 Ana as a young girl, ready to show her dairy heifer during Codington County Achievement days.
Hi I'm Ana Ruiz and I am a dairy farmer's daughter. I grew up on a 90 cow registered Holstein dairy farm near Watertown, SD working alongside my family. Through the years I developed a passion and a love for dairy cattle and all the people who care for them 24/7 365 days a year. I hold a Bachelor of Science in Agriculture from South Dakota State University where I majored in dairy production.
I am fortunate to have lived, traveled and worked around the U.S. through the dairy industry, from California and Idaho to Minnesota, down to Georgia and Florida. Through all my experiences as a dairy professional, I have witnessed the growing need for coaching and training in the leadership of dairy farms, companies and organizations. I have spent most of my life in the dairy industry, from caring for the cattle as a child, to being a herdswoman, artificial insemination technician, to an assistant manager. I know from experience that everything a farmer does to properly care for his or her animals and produce high quality food requires continual training and coaching, both personally and for his or her team of employees. As an intern for Alta Genetics, I learned that consultants must first connect with clients before meeting their needs. By serving as the 2009-2010 South Dakota Dairy Princess, it became apparent to me that as an industry we have to display strong character and integrity as we care for our animals to win over consumer confidence and trust.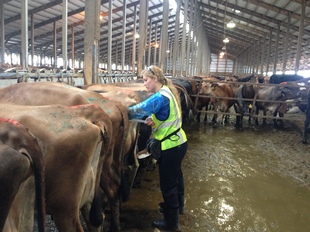 Ana interning at Rivewview LLP, in Morris, MN.
The agriculture industry as a whole has to stay connected with the public on a personal level. This is where my current endeavor falls in to place. I believe that it is absolutely necessary to provide pathways for the individuals who make up this small but largely responsible industry, to grow personally and professionally for continued success. Thus, I am pursuing my certification from the John Maxwell Team to become a better coach, speaker and teacher. Through this I am able to learn from John Maxwell, the world's number one leadership expert. (If you haven't heard of him, Google him!) As a coach I offer mastermind groups, virtually, via teleconferencing, and face-to-face. I also offer lunch-n-learns, as well as team and one-on-one coaching and speaking. For example, here's what I can do for you. By participating in a mastermind group you can learn how to better influence your team, how to empower your people, or even how to prioritize effectively to meet your goals just to name a few. Mastermind groups offer an opportunity to share your own experiences while learning collectively from other like-minded people through studying one of John Maxwell's New York Times Best Sellers. You'll walk away with tools to help you and your team perform at a higher level. You may even discover new ideas to help you reach your own personal and professional goals whether you're a farmer, farmer's wife, manager, salesmen or agriculture ambassador. Just like any day on the dairy where I always learned something new; I haven't had anyone walk away from a mastermind group saying they didn't learn anything useful and applicable to everyday life.
Ana as an intern at Maddox Dairy in Riverdale, CA.
My blog and website, dairywoman.org and johncmaxwellgroup.com/anaruiz can give you more information about me and what I am learning, as well as more details of what I have to offer. Please visit both and contact me so I can get to know you and or your team! I am very thankful to have grown up in the dairy industry, and to continue supporting men and women inside and outside of agriculture through personal and professional coaching, speaking and teaching. Have a dairy good day!
Listen to Ana's radio segment here: FARMERS_DAUGHTER-Feb._29.mp3