Farmer's Daughter Guest Blog: Brianna Buseman
Posted: 7/25/2016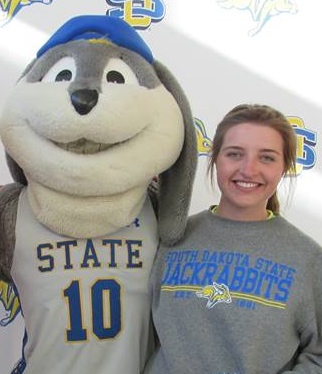 In less than a month, I will be headed back to SDSU where I will be entering my junior year. While at SDSU, I am pursuing a double major in agricultural business and animal science. Often times when I tell others what I am studying, I am asked what I plan to do when I'm done. The answer to this question gets tricky because the possibilities are endless.
According to an article written by the USDA, it is estimated that each year in the United States, there are nearly 60,000 job openings in the Ag industry, however only half of these positions will be filled. These positions range from banking, to public relations, to research, to sales (insurance, pharmaceutical, equipment, etc.), and the list goes on and on. The number of careers that exist because of the Ag industry is incredibly exciting, but can be overwhelming.
It is estimated that by 2050, the world population will reach 9 billion people. With the growing population and continual advances in technology, new careers will spring up in a variety of areas. These jobs will grow increasingly important as we look for ways to provide for our growing world.
Hearing that there are many jobs available and that new positions are created every day is really incredible. As for me, what job I will end up in is still a mystery. It will all depend on how my final two years at SDSU go and what opportunities are available once I start the job hunt. Although, I may not know for certain what career I will end up in, I do know that I will be supporting an industry that is working every day to provide for our world; and that is something to be proud of!
Miss this week's Farmer's Daughter radio segment? Listen here!: