Farmer's Daughter 8.18.14 Hog Barns
Posted: 8/18/2014
Farmer's Daughter
8.18.14
Hog Barns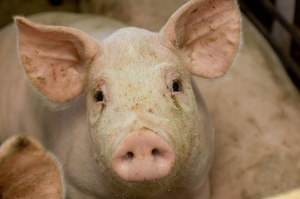 Hi, this is Rebecca Christman the Farmer's Daughter.
While the main business on our farm is raising cattle, it seems like we always have a variety of animals around the farm. If you were to visit our farm you would see a lot of cattle, but you could also find dogs, cats, chickens, sheep, goats, and horses. When I was very young we also had a few pigs on the farm.
Our pigs were in a barn, and also had a small outside pen. My dad fed them a mixed ration and we would occasionally slip in a few table scraps or watermelon rinds. Today South Dakota Farm Families is hosting an open house at the Kludt farm South of Menno. Bryan and Melissa Kludt recently finished building a 2400 head hog barn, and it is quite a bit different than how we raised our few hogs.
In today's hog barns, almost everything is automated. This new barn has a heater and fans that will keep the pigs warm in the winter and cool in the summer. Fresh air is constantly circulated through the barn. If anything is wrong, the barn will send a text directly to Bryan's phone so he is alerted right away.
These pigs will be fed like Olympic athletes, and probably have a better diet than most of us! Farmers put together a total mixed ration and each bite of food includes all the vitamins, minerals, and nutrients the pigs need to grow. There's no "skip" or "cheat days" on this diet, and the ration is changed for each stage of growth.
Hog farming has changed a lot in just the past 20 years. If it's been a while since you've seen a hog barn, stop by the Kludt Open House from 5:30 to 7:30 in Menno. While you're there you can pick up a free pork sandwich and talk to one of the farmers that grow your food! For more information visit agunited.org or SD Farm Families on Facebook.
Click below to listen to this week's radio segment on KELO 1320 AM.