Farmer's Daughter 9.3.14 Adopt-A-Farmer
Posted: 9/5/2014
It's officially September and that means school is back in session! Here at Ag United that means it's time for the Adopt-A-Farmer program to start back up. Click below to learn more about this program in this week's segment.
While I know many kids are not excited about the start of school, I was the exception to the rule. Summer is a busy time around farm, with little time for trips to town. School starting meant that I was finally able to see my friends again!
My favorite school subject was English, because I loved to read. Other students might have preferred math or science, but for some their favorite time of day was lunch. You might laugh, but we all have to eat 3 times a day. Schools teach basic nutrition and encourage students to eat healthy. This is a good start, but do students know how food gets to their lunch trays each day?
I was lucky because I grew up on a farm and my parents almost always had a garden. From the time I was young I have known exactly what it takes for food to end up on my dinner plate. For many students, even those in rural areas, this isn't the case.
For the 5th year, South Dakota Farm Families will be offering the Adopt – A – Farmer program to 4th grade classes in South Dakota. Each month, the adopted farmer sends a video to their classroom about what is happening on the farm. These videos also include questions and connections to core classroom content. If you're not from a farm, it might surprise you to learn that farmers use math and science every day.
This year we already have over 30 classrooms from across South Dakota that will be participating. You can keep up with our adopted farmers on our YouTube channel, and find links to current videos on Facebook, Twitter, and Pinterest.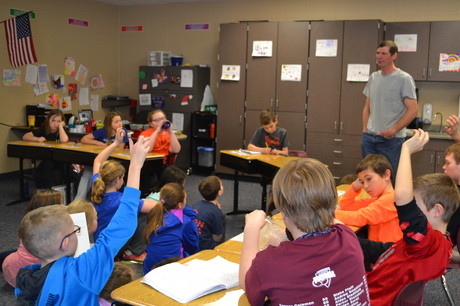 Adam Mohrhauser speaking with his adopted class in Harrisburg.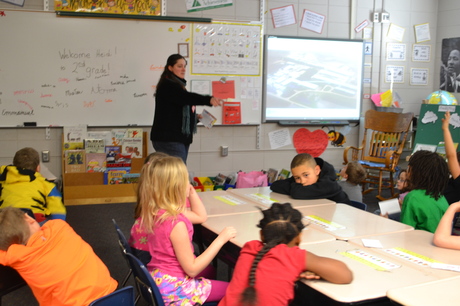 Heidi Selken speaking with her adopted class at Lowell Elementary in Sioux Falls.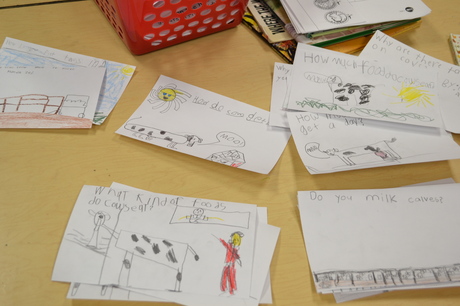 Questions the students had for Heidi about her cows.