Experiencing the Dairy World
Posted: 6/22/2017
By: Sydney Sleep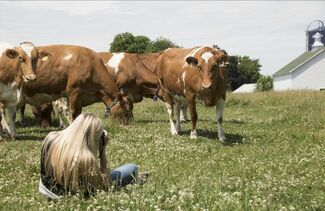 Growing up on a cattle ranch in western South Dakota where beef is primarily grown under range conditions, the dairy world was always foreign and intriguing to me. I knew next to nothing about dairy farming until last summer when I received an internship with The Hay and Forage Grower magazine in Wisconsin.
During the internship, I visited a wide variety of dairy farms and wrote many stories about topics related to dairy farming. I loved learning about this industry.
As the summer intern for Ag United, Midwest Dairy, and SD Corn, I have been blessed with the opportunity to be involved in the dairy industry again. It has been so fun to visit progressive farms, meet farmers, and learn about the ways they do things, and I am truly looking forward to more of these opportunities this summer.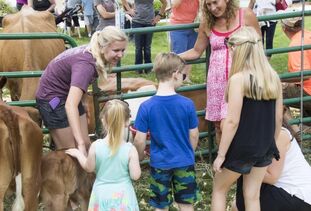 There are several things that really stand out to me from the dairy farms I have been on and the farmers I have visited with.
It is so evident how much each farmer cares about the well being of their cows and the pride they take in knowing their cows are comfortable and happy. I am amazed at the comfort the cows live in with sand beds, fans, sprinklers, and automatic brushes. I have found that the farmers are constantly looking for new and better ways to improve the well being of their cows.
I am also impressed by the precise records each farmer has for every single cow in their herds, including the milk production and breeding and calving records. A great amount of effort goes into tracking the health and performance of each cow, all with the end goal of producing quality dairy products.
But the aspect I am most impressed by is the eagerness of these farmers to share the lifestyle they love so dearly with others. I am so inspired by the farmers who have opened their doors to the public to provide them with the opportunity to learn about and experience dairy farming. What better way to tell the story of agriculture than to invite consumers to experience firsthand the great care that goes into creating a comfortable life for the animals and high quality milk for consumers. 
Did you miss hearing Sydney on the radio? Listen to her segment here: 6.21.17 SydneySleep Dairy Experiences.mp3
Be sure to tune into KELO 1320 AM or 107.9 FM on Tuesdays each week during the 10:00 "It's your Agribusiness" show to hear The Farmer's Daughter.