Posted: 5/18/2016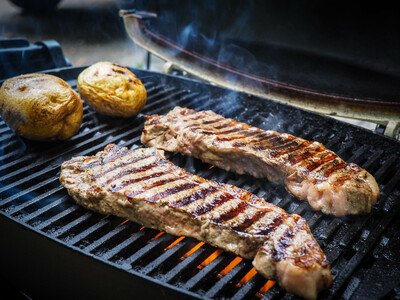 One of my favorite meals for a summer evening in South Dakota.
We are half-way through May which means we still have 2 weeks left in Beef Month! That means there's plenty of time to try a new beef recipe.
Our Christmas gift each year from my parents is a quarter of beef, which gives me the opportunity to try tons of different beef recipes and explore the many cuts of beef. We definitely have our favorite beef meals including hamburgers, roasts, steaks, and tator-tot hot dish, but we love trying new recipes as well.
Whether you're feeling indulgent or would like to eat something healthy there's a recipe and cut of beef for you! More than 15 cuts of beef are considered lean, and a few of my favorites are on that list including sirloin steak and beef brisket. Beef in any form also includes the nutrients zinc, iron, and protein, which are key to reducing hunger and building muscle.
If you want to try delicious new recipes and eat healthy this month, I would suggest taking the 30 day protein challenge. Challengers receive tips on eating healthy, and new recipes! I'm currently on day 15, and it's going great. There's no specific diet you have to stick to, just suggestions on how to incorporate protein into every meal of the day. I'm finding that adding protein to breakfast and snacks is something I need to work on, and there's been lots of tips and tricks to do just that!
Whether it's the variety of delicious recipes or health benefits, choose your reason and prepare an extra helping of beef this month.
| | |
| --- | --- |
| | |
| An example of one of my emails I get for the Protein Challenge. You can choose to recieve either daily or weekly emails to keep you on track. I chose daily! | An example of the snack ideas. It's not just beef! |