Drought Forces Farmers to Make Tough Decisions
Posted: 7/24/2017
By Sydney Sleep
 Photos courtesy of Lacey Caffee of Caffee Ranch, located 13 miles west of Wessington Springs.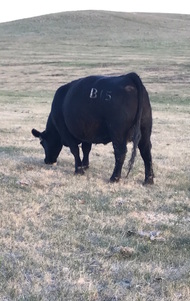 Grass supply is sparse for grazing on Caffee Ranch.
Throughout South Dakota, only 0.03 percent of the state is not currently considered to be in a drought. These conditions affect everyone, to some just in minor ways and to others with major disruptions. Farmers and ranchers are among those feeling the greatest burden.
Every farmer and rancher is making different decisions on what needs to be done for their farm or ranch to survive the drought. Though my family's ranch, the Sleep Ranch located by Spearfish, isn't sitting in the most severe area of the drought, we will soon have to begin hauling water to the pastures where our cattle are grazing because of depleting water sources. The hay supply to feed our cattle is also significantly reduced. Additionally, we are planning to sell some of our yearlings soon because there just isn't enough grass to support them.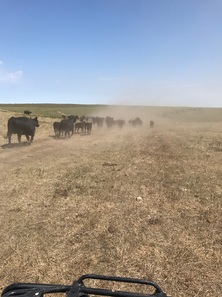 Moving cattle to new pasture on Caffee Ranch.
In areas, sale barns have seen cattle coming in earlier than usual and in large numbers due to a lack of adequate grazing and feed. Many ranchers are pregnancy testing early to sell cull cows so they have less animals to feed the rest of the summer. As an option to provide assistance, Conservation Reserve Program (CRP) acres can now be used for emergency haying and grazing. 
As for some crop farmers, the growth of hay and crops is looking bleak. In early July, 22 percent of the corn crop was in poor or very poor condition. Range and pasture was rated 57 percent poor or very poor. Spring wheat was 65 percent poor or very poor as well as 23 percent of soybeans. 
To increase the efficiency in helping farmers and ranchers in need, Governor Daugaard activated the State Drought Task Force, which monitors drought and coordinates the exchange of information.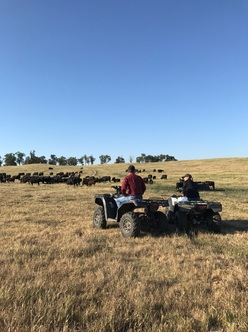 Cattle recently moved to new pasture, on which grass supply is still sparse. 
Though these times are so disheartening, I am sure inspired by the perseverance and tenacity I have seen in many farmers. Their never-give-up attitude is what will pull them through this hard time.
Governor Daugaard included this quote from President Franklin Delano Roosevelt in a press release and I believe it is so true, "No cracked earth, no blistering sun, no burning wind, no grasshoppers are a permanent match for the indomitable American farmers and stockmen and their wives and children who have carried on through desperate days and inspire us with their self-reliance, their tenacity and their courage."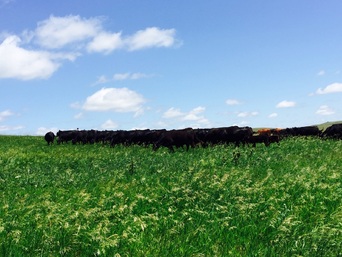 Cattle grazing on pasture last year.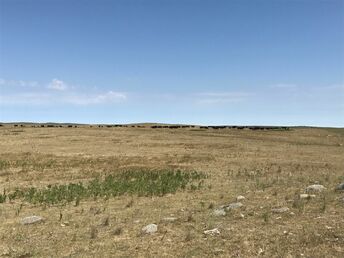 Cattle grazing on the same pasture this year. 
Did you miss hearing Sydney on the radio? Listen to her segment here:  7.24.17 Sydney Drought.mp3
Be sure to tune into KELO 1320 AM or 107.9 FM on Tuesdays each week during the 10:00 "It's your Agribusiness" show to hear The Farmer's Daughter.