Donated Heifers build Student's Herd, Connections and Future after Storm Atlas
Posted: 5/22/2014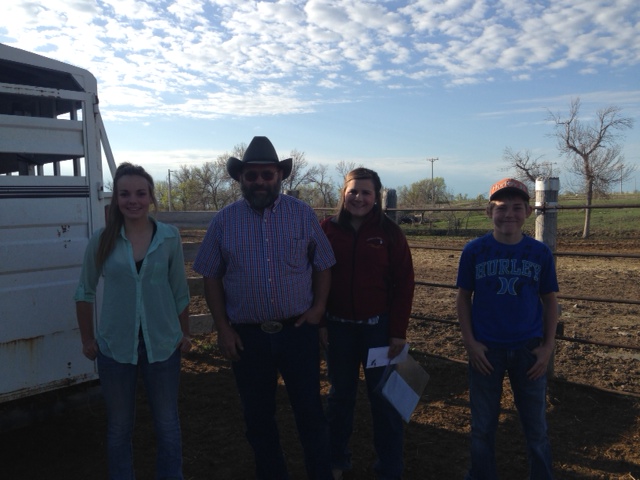 Cal & Cali Christensen deliver the donated heifers to Taylor and Cameron
Cameron & Taylor Richter, Wall FFA freshman twins, received a great "end of the school year" gift. As a special project of the SD FFA Foundation, they each received a commercial angus heifer to help rebuild their herds after Storm Atlas. The heifers were donated by Calvin & Jodi Christensen, from Big Timber, Montana.
Upon receiving their heifers and meeting the donor, Cameron & Taylor were overwhelmed by the Christensen's generosity. Taylor says "My brother and I are so fortunate for what everyone has done. This will be a great opportunity for both of us. " Cameron adds, "This is one of the greatest gifts I can receive because it shows how ranchers care about one another. Thank you so much. "
Christensen, a past FFA member who's daughter Cali was the 2011-12 Montana State FFA Secretary, wanted to help FFA members interested in learning the ropes of raising cattle, and who were hit by Atlas. Christensen said, "In 1974 I won the Montana State FFA public speaking contest and was awarded a trip to the SD State FFA Convention. I know what FFA can do for young people. I gained a very deep respect for SD FFA members and their work ethic and I have watched and admired SD as a very progressive state for business. My heart broke for those who lost cattle in the Atlas storm and my family wanted to help. I am so blessed to meet Taylor and Cameron and their family, and thrilled with the South Dakota FFA Foundation for helping make it happen."
Dani Herring, Wall FFA advisor says, "I believe both Taylor and Cameron will use this gift to grow their SAE and continue to be involved in the Wall FFA Chapter. They are both kids that know you cannot get something for nothing and will continue to work hard to pay back the generosity of this donation. Their dream is to go to college and come back and help take care of their ranch, this donation is going to help them in reaching that goal."
The SD FFA Foundation raised and distributed over $19,000 in addition to these heifers to SD FFA members who lost livestock to Storm Atlas. The SD FFA Foundation provides an avenue of funding which stimulates, promotes and supports the best interests of FFA students, creating an awareness of agriculture careers, agri-business opportunities and the needs of a growing and diversified industry. For more information about the South Dakota FFA Foundation and South Dakota's FFA programs, visit www.sdffafoundation.org.