Dogs and Cattle Play Important Role at TSN Simmentals
Posted: 12/4/2017
December Featured Farmer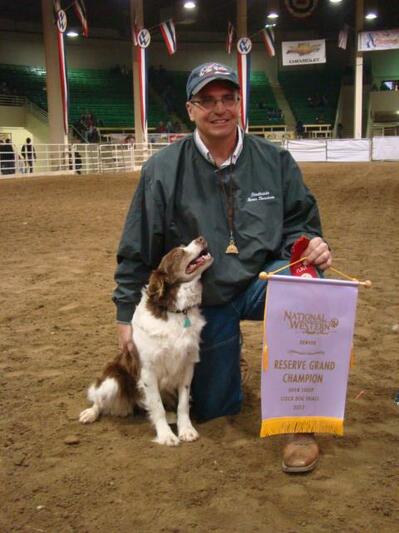 We've all heard the saying that 'dogs are man's best friend," but for many farmers and ranchers, their dogs are more than a friend or family member, they are as valuable as any employee on the operation. 
This is especially true for Tim and Sandy Naasz who raise beef cattle and crops on their ranch near Platte, South Dakota. He grew up with working dogs, but found a special connection when he bought his first border collie in 1997.
"It was a good fit right away," he said.  In 1998, he went to his first training clinic. Learning to train dogs led to raising and training dogs for other ranchers, and Tim began competing in stock dog trial competitions in 2001.  He was named the winner of the 2012 National Cattle Dog Finals and has taken home top honors at a number of state and regional competitions, including Black Hills Stock Show, National Western Stock Show and Iowa State Fair.
Border collies play an important role in helping the Naasz family raise and manage their herd of about 330 registered Simmental and Simmental/Angus breed cows. 
"A good border collie will do the work of what two or three people can," said Tim, when talking about how stock dogs can help in rounding up and sorting cattle.  Understanding a dog's natural instincts or behaviors is an important part of training him and working with him to handle livestock.
Tim grew up on a dairy farm near Ethan, South Dakota, and milked for several years after graduating from college.  He and Sandy began ranching together on her family's land in 1994.  They started with a herd of 125 beef cows in 1996 and have grown to calving about 330 cows each year.  They also grow corn, small grains and hay to provide feed for their livestock.
Tim and Sandy have two daughters.  Rebecca is a graduate of South Dakota State University and is the outreach director for Ag United for South Dakota. Sawyer is a junior in high school and active in 4-H, FFA, sports and music. 
A registered herd means that the Naaszes are members of the national breed association and track detailed information about each animal such as the parents, health, vaccination records, weight, performance records, and more. By carefully monitoring their calves and cows, they can continue to improve the quality and performance of their herd.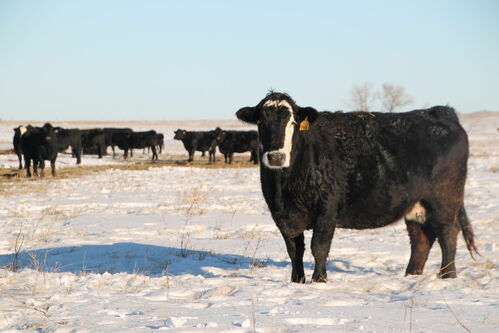 A few of the cows at TSN Simmentals.
The heifer calves born on their ranch are either kept as replacements for their own herd, or sold to other ranches looking to build or improve the genetics in their herds. About one-third of the bull calves are sold to ranches as well.  The remaining bulls are finished in feedlots.
"Both Sandy and I are very interested in the potential to improve our herd through genetics and breeding," said Tim.
They are active members of a number of agriculture organizations as well as local community, church and 4-H programs. Tim has been on the board of the South Dakota Simmental Association and a founding member and current president of the South Dakota Stock Dog Association.
The family takes cattle to the South Dakota State Fair each year and Sawyer shows cattle in 4-H and several junior Simmental regional and other shows each year.
In addition to raising and training dogs and competing in stock dog trials, Tim enjoys working with other stock dog handlers to continue training their dogs and sharing information.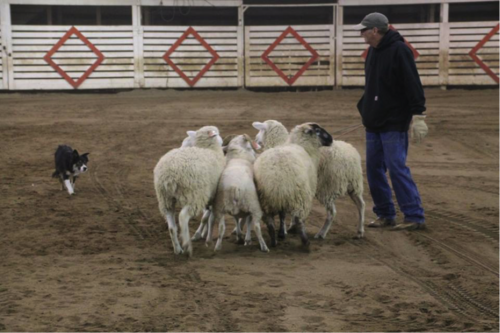 Tim Naasz working sheep with Border Collie Lyla. 
There are several levels of competition for each trial, Novice, Beginner, Intermediate and Professional, with various obstacles that the dog must herd sheep or cattle through.  In the Novice level, handlers can move through the obstacles with their dog, but by the Professional level, the handler is outside the course giving commands for the dog to complete on its own.
Tim is hosting cattle and sheep trials this weekend, December 8 & 9 at the Yellow Rose Arena in Platte, SD.  He will also be holding a training clinic for those interested in learning how to train a dog to work livestock. To learn more about the training clinic or trials, go to the Yellow Rose Stockdog Trial Facebook Page.