Posted: 4/20/2015
You are probably well acquainted with you doctor, dentist, and your co-workers. But, how well do you know your farmer? Your farmer puts food on your table for every meal, every day, but you know the face behind you food?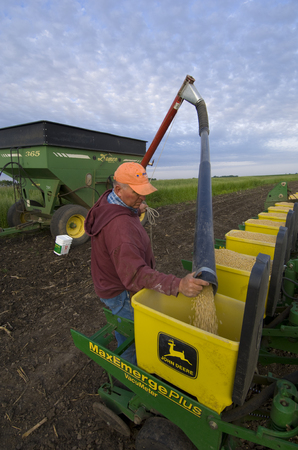 Today it seems like people have more and more questions about food. How is it grown and how are the animals cared for? Do you use pesticides? Why? Sure, it's easy to type your questions into google and see what pops up. With all the information out there, how do you know what you're reading is credible, reliable and accurate?
Growing up on a cattle farm, I knew exactly how my beef was raised. There was no question about what they were fed, where they lived, and how they were cared for. Even though I had a great connection to the beef industry, I have to admit that I wasn't as informed about other parts of the food chain. Fruit and vegetable production was somewhat of a mystery to me, beyond what I knew about our backyard garden.
Today, I love learning about all the different production practices in agriculture. It makes learning even more interesting when you can connect a new fact directly to what's on your plate! The best way to find out more about your food is to go straight to the source. Talk to a farmer. They are ready and willing to answer questions about how your food is produced.
Here at South Dakota Farm Families, we have 3 great events coming up for you to meet the face behind your food. The Know Your Farmer Dinner in Vermillion, the Brookings Poultry Crawl, and the Rapid City Beef Crawl are happening soon! These events give you the opportunity to try delicious dishes, and talk with the farmer that produces your food.
If you aren't able to make it to one of these great events, my other favorite way to connect with a farmer is through blogging. In our technology filled world, one of the benefits is that you can talk to people hundreds or even thousands of miles away! Some of my favorite ag blogs can be found below. These blogs also have great social media sites as well, so you can find answers to your questions even when you don't have time to read an entire post!
If you have others to add, comment below! Remember, if you have questions about your food, ask a farmer or rancher!
Listen to this week's radio segment here! FARMERS_DAUGHTER-_APRIL_20TH.mp3