Dinner Conversations Reveal Answers to Ag Questions
Posted: 5/2/2016
By Connie Sieh Groop
Special to the Farm Forum
Amid the clank of silverware on glass plates, diners at the Brass Kettle in Aberdeen focused on food last week. As dishes featuring succulent pork and fresh greens were served, a mix of leaders from Aberdeen met with people involved in the production of food. Amid the conversations, common ground and interests were discovered.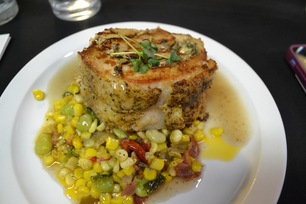 As a dairy farmer from Claremont, Mike Frey shared that one of the most interesting questions he's been asked came from a kindergartener during a visit to his farm: "Why do you need to milk cows?" Frey said he turned the questions around, asking the young person, "Why do your like ice cream?" In phrasing his answer in this way, Frey said he was able to help the student understand why the work on the dairy farm is important to him and his family. The young person got the connection.
Looking to develop similar connections between leaders in Aberdeen and those in agriculture, Ag United hosted a "Know Your Farmer Dinner" last week. Five couples representing the soybean, corn, dairy, pork and cattle industries sat across the table from invited guests. After a brief explanation of their operation, the couples encouraged questions.
Rebecca Christman, Outreach Director of Agriculture United for South Dakota, facilitated the meeting. The group is a coalition of farm organizations formed in 2005 with a goal of keeping family farms and ranches growing.
As a hog manager of Spring Creek Hutterite colony, located near Forbes, Lenny Gross and his wife Tillie enjoyed the supper, featuring Mangalitsa pork. Lenny enjoyed the meat of the heritage breed, noting, "It is good!" He also openly shared some of the challenges involved raising 35,000 to 38,000 hogs in the farrow-to-finish operation at the colony.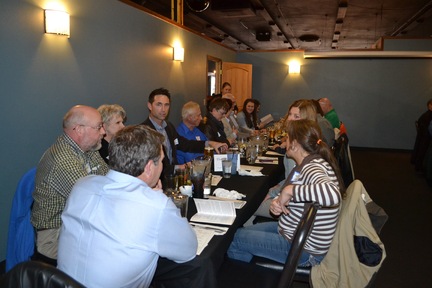 Dave and Erin Giovannini were among the community leaders peppering the farmers with questions. Originally from the northeast part of the United States, the couple grew up amid dairy farms and vineyards. As general manager of MFG, David Giovannini said he feels a kinship to farmers, noting that communication in important in understanding the ag industry. As one who builds wind towers that are used on wind farms, Giovannini noted, "We are stewards of energy while farmers are stewards of the land."
In response to some of the queries, Scott Sperry of Bath explained why having grain bins on their farm is an important hedge again low prices. Kathy Sperry explained the types of irrigation system they use. The Sperry's son Mark is involved in biotechnology testing at Epcot Center in Florida which led to more conversations about the use of technology in agriculture.
Many of the conversations shared details about family which is the glue that holds the operations together. For Troy and Katrina Knecht of Houghton, their young children enjoy certain aspects of farm life. The Knechts operate a diversified farming operation including grains and cattle. Monica and Mike McCranie of Claremont are joined by their two sons in their operation corn and soybean operation. Returning to the farm after going to college, their sons take on many of the technological challenges. The involvement of children in the operations was a common theme that drew interest across the room.
"There were some really interesting questions addressing GMO questions and antibiotic queries," Troy Knecht said. "It was a great back and forth and great to hear what they do as well. Creating a relationship is very important and allowed both sides to put a face on the issues. I felt the guests really wanted to know more about our industry."
John Peterson, Associate Professor of Finance at Northern State University, said the evening was very informative and it was nice to re-learn basics of the roots of ag, given that many people are generations removed from farms.
Rene Hansen said the experience provided a very different opportunity to learn.
"Agriculture is not the same as it used to be," Hansen said. She said that many reports focus on the negatives of GMOS and it was interesting to learn about the ideas behind the changes and the benefits provided by technology. She enjoyed the opportunity to talk to someone with expertise in agriculture.
One of the chefs at the Brass Kettle, Brandon Johnson believes having the event at the Brass Kettle was a perfect venue.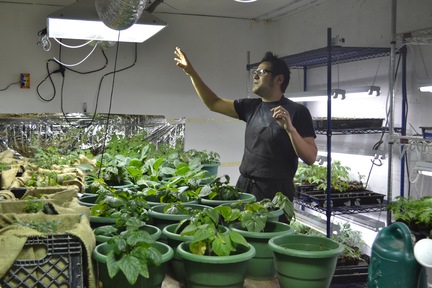 "I think a lot of people have been reaching out to learn from farm-to-table events," Johnson said. "We try to seek out local products and also raise herbs and produce using hydroponics in our basement and on the roof of our building."
Brandon thinks people have a big disconnect with food they eat. Growing up in Aberdeen, "I thought farms were boring."
He believes that people don't really understand where their food comes from other than a grocery store. When he lived in Minneapolis, he found food was a social event and really important to people.
"I learned to use herbs and fresh produce and I moved back here to open a restaurant," Johnson said. "Statistics show that each farmer feeds 155 people which is less than 1 percent of the population. As discussions expand, farmers are finally getting the recognition they need."
---- Connie Sieh Groop wants to share the story of agriculture. If you have any suggestions, email her at conniegroop19@gmail.com