Delivering Beef to Holiday Tables is a Family Affair - December Featured Farmer Profile
Posted: 12/1/2016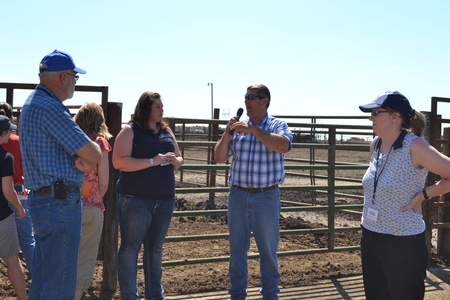 Steve Ollerich giving a tour at his farm, July 2014
As the calendars turn to December, our attention almost always turns to two staples of the holiday season; food and family. Whether it is a prime rib for Christmas dinner, beef stew on a cold winter day, or stopping for a burger during holiday shopping, beef is often the center of the menu this time of year.
Steve and Rhonda Ollerich are just one of the 15,000 South Dakota farm or ranch families who raise beef cattle to make those tasty and nutritious beef dishes possible.
Steve Ollerich grew up on his family's farm near Garretson, South Dakota, where they raised crops and beef cattle. He and his seven siblings worked on the farm and helped with chores. Steve and his wife Rhonda made their home in nearby Baltic, but he continued to farm and raise cattle with his parents, Bob and Phyllis Ollerich, in addition to working part-time at the Sioux Falls Stockyards.
In 2000, Steve and Rhonda also purchased a feedyard near Elkton, South Dakota, where they currently feed about 3,000 head of beef cattle.
Steve and Rhonda have three daughters - Ashley, Natalie and Trish - who also grew up involved in the farm and feeding cattle, helping at their grandparents' farm, then the family's feedyard.
"The girls have always played an important hand and role at the farm, especially helping clean up and remodel parts of the feedyard when we got started there," said Steve. "It has been rewarding to work with them over the years and know it was an important part of their lives, too."
Trish continues to be involved in the farming operation, She feeds 300 cattle and runs 160 beef cow. She and her husband, Kash welcomed their first baby, Koy Robert, in November. They also welcomed their granddaughter Allie into the farming operation.
The Ollerichs have worked to improve their feedyard to make it comfortable for cattle, as well as safe and functional for the people who work with them.
"Our goal is to make it as stress-free as possible for both cattle and people," Steve said.
About five years ago, a wind storm damaged several buildings at the farm. When they rebuilt, Steve was able to design a new building for handling cattle, as well as holding pens and chutes to make sure that cattle can be moved calmly and without distractions. The areas where cattle are loaded and unloaded to trucks are indoors to protect from the elements.
"We had the opportunity to start from scratch and take ideas from many different places," he said, including Temple Grandin, other feedlots and what he'd seen from working at stockyard facilities.
Agriculture is a family affair in a number of ways for the Ollerichs.
"My brothers are our main cattle buyers and our son-in-laws help take part in some of the feedlot tasks" said Steve. "Working together is especially valuable in giving younger farmers a start in the business" Whether it is helping construct new buildings, load cattle or other tasks, Steve noted that it goes more smoothly when family members are able to help.
The state's agriculture community serves as an extended family, as well.
"We are in a great neighborhood. Agriculture is an important part of our rural economy, and it is good to see farmers working together to help each other get by, especially when commodity prices are volatile," said Steve. "We buy hay and corn for feed and straw for cattle bedding from other area farmers, and area able to use manure in place of commercial fertilizer."
The Ollerich family has hosted "Moms Day Out" tours for South Dakota Farm Families and are active in local and state level organizations, including the South Dakota Cattlemen's Association and serving on the board of the Sioux Basin Cattlemen's Association. While living in Baltic, Steve served as mayor for 10 years.
As you plan meals for the holiday season, you can be assured that the South Dakota farm and ranch families who made those dishes possible have been focused on quality and animal care throughout the year.
"One of the most rewarding things is to walk through pens of cattle that are healthy, calm and well cared for," said Steve.
If you are looking for terrific beef recipes to be the spotlight of holiday meals or parties, find ideas from the South Dakota Beef Industry Council here or the National Cattlemen's Beef Association here.