Posted: 3/31/2015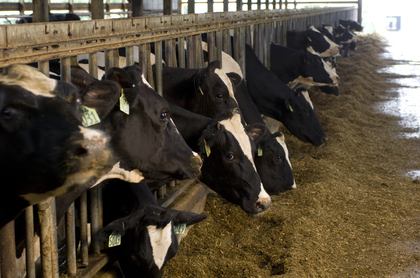 Last week the Central Plains Dairy Expo was held in Sioux Falls. Hundreds of vendors and thousands of dairy farmers showed up to learn about what's new in the dairy industry.
I didn't grow up on a dairy, but my grandparents milked cows and my dad was a dairyman for many years before getting into beef cattle. This meant that my dad always made sure I had an appreciation for the dairy cow. The impact that the dairy industry has on our state is impressive – from creating jobs and supporting rural economies to providing an amazing source of healthy and delicious locally produced milk and dairy foods!
Here in South Dakota we just have 263 dairy herds, far less than our neighbors in Minnesota, but the cattle still make a huge impact on our state. South Dakota has 92,000 dairy cows and they produced over 200 million gallons of milk in the last year. In addition, each dairy cow provides a $14,000 economic impact in our state! Milk and cheese products from South Dakota are shipped locally, throughout the nation, and even around the world. From Baby Bel to Dimock cheese, dairy manufacturing is a big business.
Being any type of farmer isn't easy, but dairy farmers are some of the hardest working people I know. Milking cows two or three times a day all year long can be taxing. To all the dairy farmers out there, I say thank you for making sure that I have milk for my cereal, yogurt for breakfast, string cheese for a snack, sour cream for my enchiladas, and most importantly, SDSU ice cream! Where would we be without all these great dairy products?
Our state's dairy farmers make life a little sweeter (or creamier, or cheesier). I bet most of us can go a whole week without thinking of the dairy farmer that keeps milk in your fridge. But, every day the dairy farmer is milking, and feeding, and caring for the cow that isn't feeling well. So next time you see one of South Dakota's few dairy farmers, be sure to say a heartfelt Thank You!
If you would like to see a dairy farm for yourself, there will be a few opportunities this summer! More information will be available on our website and Facebook page when we are closer to the events. If you have any questions, please contact us at info@agunited.org or call (605) 336-3622.
June 6 – Bus Tour, Hilltop Dairy, Elkton
June 13 – Breakfast on the Farm, Royalwood Dairy, Brandon
June 20 – Open House, MoDak Dairy, Goodwin
June 30 – Know Your Milk Tour, Cottonwood Ridge Dairy, Garretson
July 9 – Farms After Five Tour, Sioux Falls
July 23 – Farms After Five Tour, Sioux Falls
Listen to this week's radio segment here! Farmers_Daughter_Mar30th.mp3