Posted: 8/3/2015
By: Rebecca Christman
One of my favorite events is finally here, county fair! If you're from Sioux Falls, you know that Sioux Empire fair started last weekend. It's also county fair time back home at the farm.
Sioux Empire fair has animals, food vendors, and rides! Compared to that, the Brule County fair is much smaller. These fairs are similar though, because each one includes what I believe is the heart of a county fair – 4-H.
4-H isn't just for farm kids. The six million students that make up 4-H come from every county in the U.S.1 Project areas like rocketry, fitness, clothing, small animals and visuals arts ensure that no matter your interest, you can find a place in 4-H. If nothing from that list interests you, there's 65 different project areas in South Dakota 4-H!
Like I did in my 4-H days, my younger sister spent the weekend scrambling to finish last minute projects. Today and tomorrow the hard work that 4-Hers put in over the summer will pay off as exhibits are judged and livestock are shown. Maybe when it's all done the exhibitors and their parents can finally take a deep breath.
Back here in Sioux Falls, be sure to stop out at the fairgrounds! While you're there, take a look around the discovery building, get a malt from the dairy bar, and explore the 4-H exhibits!
Even though I'm now too old for 4-H, the pledge that we said at each meeting is a good reminder of how we should be living, even as adults.
"I pledge my head to clearer thinking,
My heart to greater loyalty,
My hands to larger service,
and my health to better living,
for my club, my community, my country, and my world."
1. http://www.4-h.org/about/
Listen to this week's radio segment here! 8.3.15_Farmers_Daughter.mp3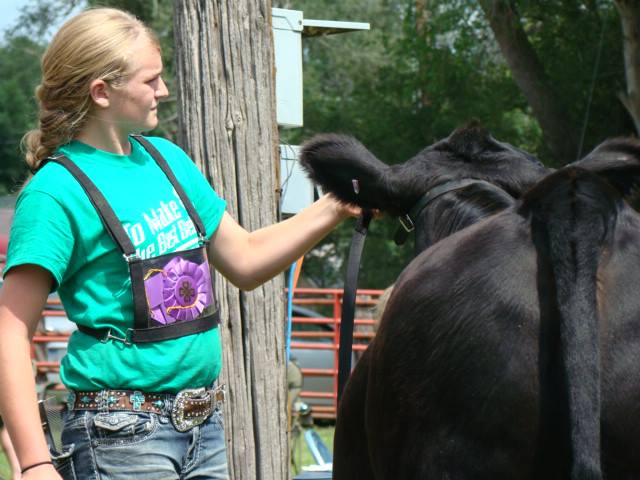 A throwback the 2013 county fair, my sister and her show heifer Katt.