Posted: 8/17/2016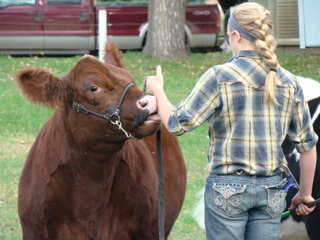 My sister, Sawyer Naasz, showing at the 2015 Brule County Fair.
Over the past few weeks every county in the state has had their own county fair. Near home, this week is Turner County Fair, the oldest county fair in South Dakota.
County and State Fairs are both fun, but there's something about county fairs that makes it more personal. County fairs can be big or small, but they all have a few things in common. Parents and Grandparents are able to watch their kids compete in the same club they did growing up. The neighbor down the road may make a trip to check out the livestock, and community members can show off their skills in photography, baking, or sewing. Checking out everyone's exhibits is even more fun when you know the person that entered them.
It's not just the rides, the food, or the competition that draw people to the fair (although those are all important!) For kids, it's about spending a few days having fun before school starts again, and the excitement of seeing a project you've been working on all summer, finally come to fruition. For the adults, it's about catching up with neighbors and community members, seeing how much rain everyone's got and how the corn crop is looking.
Although some things are the same, each county fair is different from the county's beside it. I have had the opportunity to go to quite a few different fairs around the state, and they are all as unique as they are fun! What makes your fair unique might be the delicious pie served by the Ladies Aid, or the thrilling carnival rides, or the excellent livestock that are raised in your county. Don't miss the opportunity to visit your county fair to find out what makes it different from all the rest!
This week I'll be serving pork sandwiches at the Turner County Fair. What makes the pork stand unique is the delicious smoked pork loin, and the homemade potato salad. It's your last chance of the year of the year to take in a county fair, so I hope to see you there!
*If Turner County is too far from where you live, find a county fair near you, here!
Did you miss this week's Farmer's Daughter Radio Segment? Listen to it here:SD_Farm_Families_-_Farmers_Daughter_Aug_15th.mp3