Corn Mazes and Corn Harvest
Posted: 10/31/2017
My sister Sawyer and I on our own corn maze adventure. 
October is a time when lots of families head to the country. Apple orchards, pumpkin patches, and corn mazes give people from town the chance to enjoy the beautiful rural landscape we have in South Dakota. It's fun to spend a little time in the crisp fall air, and explore the countryside. As a farm kid living in the city, it feels good to escape to a place where there is room to explore. Today, Halloween, is usually the last day that corn mazes in the area are open. There are sure to be some families and teens that will try their hand at escaping a haunted corn maze.
This time of year, farmers are also spending a lot of time out in the cornfield. However, farmers aren't testing their problem solving skills by finding their way through a maze, they are working hard to harvest this year's corn crop. Harvest is the final step in a process that started many months ago. Farmers planted their corn this spring and spent the summer caring for it and watching it grow. A successful harvest depends on many factors that are out of the farmer's control. Depending on the area, this year in South Dakota farmers have had to deal too much rain, too little rain, cool temperatures that affected crops in the end of the growing season, hail, and drought. Despite all of these challenges, it's always exciting to get in the combine and see exactly what the yield will be this year.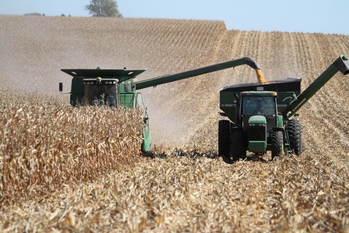 In South Dakota, farmers are expected to harvest 4.8 million acres of corn this year.  About 36% of this corn goes to feed livestock. When farmers are able to sell their corn locally, they get a better price. This is important in years where the price farmers get for their grain is low, like this year. A few cents can make the difference between losing money, breaking even, or making money on this year's crop. Livestock are important for grain farmers too!
After the corn maze is shut down, that corn will also be harvested. Whether grain comes from a traditional cornfield or a local corn maze, corn harvest in South Dakota is underway! 
Listen to The Farmer's Daughter each Monday on KELO 1320 AM or 107.9 FM during the "It's Your Agribusiness" radio hour from 10am - 11am. Did you miss this week's Farmer's Daughter segment? Listen to it here: 10.30.17 FD Corn Mazes and Corn Harvest.mp3