Celebrate May with Beef and Eggs
Posted: 5/16/2018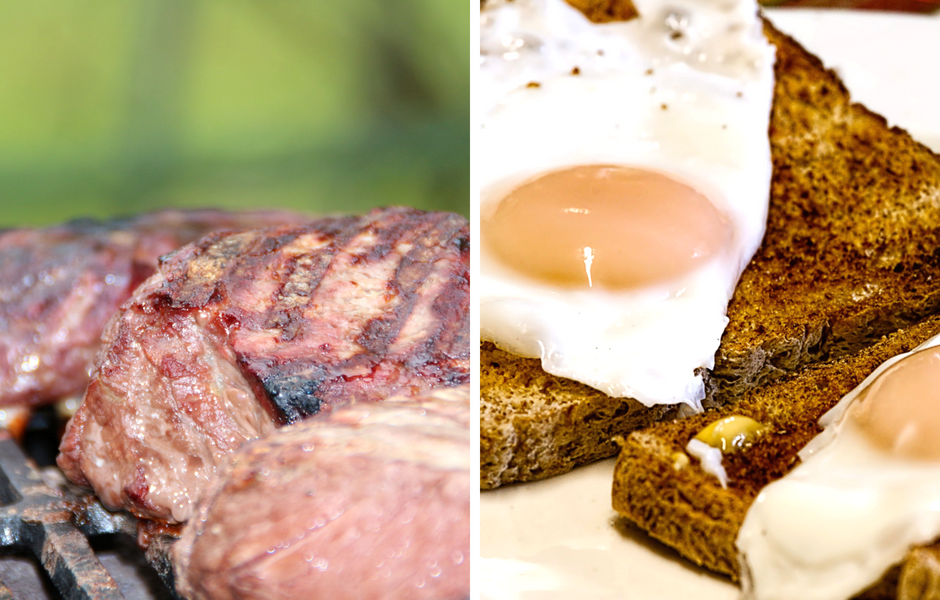 Every May we celebrate two of our favorite products that are grown in South Dakota, beef and eggs! Eggs are a great way to start your day, and steak is always the best end. In South Dakota, we have farm families that are committed to ensuring these products are safe, delicious, and nutritious.
Here in South Dakota, beef cattle outnumber residents 4 to 1. Fifteen thousand South Dakota farms are committed to giving cattle the best possible care through each stage of life. Some farmers or ranchers focus on raising healthy calves and cows, while others focus on feeding cattle a specialized diet until they are ready for market. These farms often look very different, but each farmer works to make sure that their cattle are safe, healthy, and well cared for throughout their life. 
We talk a lot about farm to table, so it's no secret that cattle eventually end up on our plates in the form of protein. Beef is a great source of ZIP – zinc, iron, and protein, so there's no need to feel guilty when you're throwing some burgersor steakson the grill this summer. A 3 oz. serving of lean beef comes in at about 150 calories. With many beef cuts meeting this description (including 95% lean ground beef, strip steak, top sirloin, and tenderloin steak) beef can be a regular part of a healthy diet. 
Eggs are another one of our favorite South Dakota products. South Dakota is currently home to just one egg farm with products available commercially, there are a number of farms that also raise laying hens.  Together these farms produce 600 million eggs each year! This means, you don't have to look much farther than the shelves of your local grocery store for South Dakota eggs. Dakota Layers near Flandreau has eggs in many local grocery stores, so you can pick up fresh eggs during your normal shopping trip. You'll know these eggs are fresh, as it takes just 24 – 36 hours to go from chicken to shelf!
Eggs are another great source of protein. With 6 grams of protein and only 70 calories, 1 large egg can help you feel satisfied from breakfast to lunch. While many people that are health conscious choose to skip the yolk and just go for egg whites, they are missing out on 250 grams of choline which helps promote normal cell activity and transports nutrients throughout the body. Recent studies certified by the USDA now show that the egg yolk now has 185 grams of cholesterol, compared to the previously believed level of 214 grams. Eating one egg a day falls in line with recommended dietary guidelines. There are tons of delicious recipesfor breakfast, dinner, and every meal in between. 
This May, celebrate Beef Month and Egg month with the perfect recipe to feature both, "Baja Sunrise Steak and Eggs"! 
Did you miss out this week's Farmer's Daughter? Listen to it here: 5.14.18 Beef and Eggs.mp3
Be sure to tune in each week during the "It's Your Agribusiness" show on Monday's at 10am on KELO 1320 AM and 107.9 FM
Sources:
https://www.beefitswhatsfordinner.com
http://www.dakotalayers.com
https://www.incredibleegg.org/