Building the Fifth Generation and Beyond
Posted: 5/27/2015
Featured Farmer Profile: MoDak Dairy, Inc.
Brothers Jim Moes and Greg Moes are the fourth generation to own and operate their family's farm near Watertown. The farm was homesteaded by John and Elizabeth Moes in 1894, then passed on to Jim and Greg's grandparents and parents.
With each generation, the farm changed and grew. The first milking parlor was built in 1976, allowing the Moes family to milk 16 cows at a time instead of individually milking their 120 cows in a stanchion barn. In 1991, Greg and Jim formed MoDak Dairy incorporated when they bought the cows and machinery from their parents.
The largest expansion took place in 2008 when they built a new milking parlor and a cross-ventilated freestall barn that allowed them to expand their milking herd to 2,000 cows. They also raise all the calves and replacement heifers for the dairy, and grow crops -- corn silage, alfalfa, and other forages – to feed cows and calves.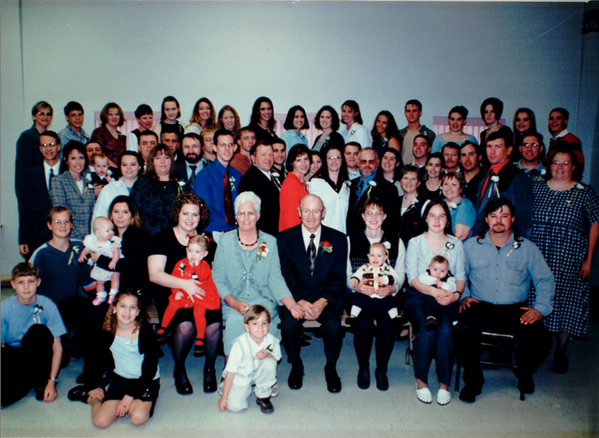 Before they started expanding the physical buildings on the farm, Greg and Jim also recognized the need to build a plan that would ensure the dairy could continue operating in the Moes family for generations to come. Over the past several years, they have been working on a plan to transition the dairy and crop farm to the fifth generation: Greg's sons Scott and Jacob, and Jim's son Matt.
"The best thing we did was bring together a team of advisors to help with the transition," said Greg. He noted that having a group of trusted, impartial professionals helped them identify and address important decisions and potential issues. These advisors were even involved in talking to the next generation about the possibility of coming back to the farm.

"At the time, they were all living off the farm and working in other jobs. We weren't sure if anyone was really interested," he said. "They were able to better understand the opportunities when industry professionals were involved in the conversation."
The farm has been part of Farm Journal's Legacy Project for the past six years, with their transition and succession planning story featured in several articles.
"Our goal is to build a plan that doesn't just ensure transition to the fifth generation, but makes it possible for many more generations past that," said Greg.
One of the biggest challenges for the Moes family – and most other family businesses – is communications.
"Discussion goes a long way. Bringing together members of our advisory team with family members makes us discuss things we need to," he said. "As Jacob, Scott and Matt take on more management roles, they have become more involved in the meetings and decision making."
Another important piece of a transition plan is identifying a clear role for each person that will be involved in the farming business.
"There are lots of opportunities as the farm grows, so we need to guide people to a role that fits what they are good at. One person may be good at computers and technologies, another may like working with cows, and another may be better with crops," said Greg.
Greg and Jim also recognize the role that MoDak Dairy and other South Dakota dairies play in the state's economy and rural communities. MoDak Dairy employs about 30 full time employees.
"We look at it as working with 30 different families who live and do business in our communities."
The dairy tries to work with local contractors and businesses as much as possible.
"When we built the new dairy, our primary contractor was located just two miles away," said Greg. "Working with them not only provided income for a local business and jobs for people in our community, it also meant that we would have local suppliers who could provide service and repairs for years to come"
The dairy provides another marketing option for local corn farmers by purchasing about 120,000 bushels of corn each year.
MoDak Dairy is also involved in a number of community, state and industry organizations to help promote dairy farming. They are members of South Dakota Dairy Producers, Dairy Herd Improvement Association, and Central Plains Dairy Association, and work with Midwest Dairy Association and South Dakota Extension.
They host a number of tours and field trips each year and work with students from Lake Area Technical Institute in Watertown who come to the dairy farm to perform lab testing and experiments. They also deliver gifts to neighbors and Kranzburg, South Dakota, residents during June Dairy Month and the holiday season.
Want to check out this family-owned and operated dairy for yourself? MoDak Dairy, Inc. is hosting an open house on Saturday, June 20. Join the Moes family at 46516 171st Street, Goodwin, SD 57238 from 10:00 a.m. to 1:00 p.m. for free grilled cheese sandwiches, ice cream, farm tours, and kids activities. Learn more here.