Bruce Burkhart, 2016 AgVocate of the Year
Posted: 1/5/2017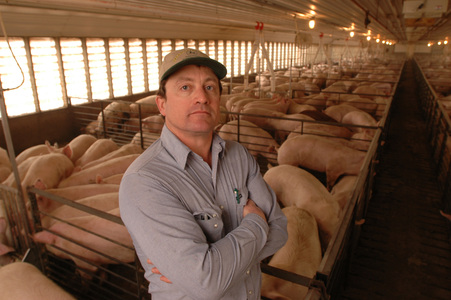 "We're making progress, but our job isn't done yet," is how Bruce Burkhart looks at the efforts that he and other farmers and ranchers are making to share their stories about modern farming and livestock production with consumers in South Dakota and beyond.
Bruce and his wife Julie own and operate a diversified crop and livestock farm, raising hogs, cattle, corn and soybeans on land near Dell Rapids, South Dakota, that has been in their family for 99 years. Currently, Bruce is farming with his sons, Brandon and Jase. They raise 250 beef cows and calves each year in a hoop barn and operate two 2000-head hog barns.
Bruce was one of the first volunteers with Ag United when it was founded 12 years ago, and has continued in several roles over the years. He was named the winner of the third annual AgVocate of the Year award by the board of directors for Agriculture United for South Dakota at the organization's annual meeting luncheon in December.
"I started volunteering with Ag United in 2005 because I knew I wanted to be part of the team doing this important work for South Dakota's farm families," said Bruce. "An organization takes everyone's participation to be successful. It's all about teamwork."
Bruce and his family appeared in television advertisements introducing the organization in 2005. He has volunteered in a number of roles over the years, including the Adopt a Farmer program, where he records and sends monthly video updates to fourth grade classrooms throughout the school year.
"Bruce and his family are tremendous advocates for South Dakota's farm and ranch families," said Richard Vasgaard, Centerville farmer and president of Ag United. "He is always willing to answer any question that comes his way from elementary students, college students or teachers."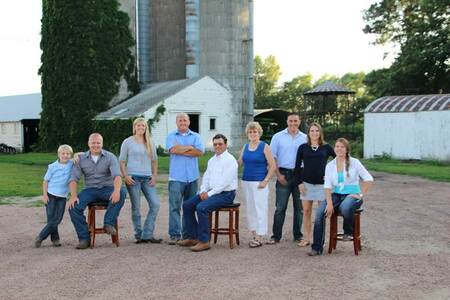 He has interacted with a number of classrooms and hundreds of students through the Adopt a Farmer program, but notes that the video posting online also can reach a broader audience of adults.
Check out some of the monthly update videos that Bruce has posted here.
"When my daughter was working at the Pentagon, she showed several co-workers the monthly videos, which led to lots of questions and an education opportunity for people who had never had any exposure to agriculture or farming," said Bruce. "One person even asked which was larger: a pig or a cow?"
Bruce enjoys hosting yearly tours for Augustana University students at his farm. The visiting class alternates each year: one year it is an Economics class, and the next it is an Ethics of Food class. Each group of students comes prepared with lots of questions about modern food production.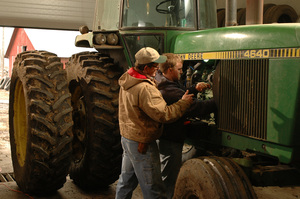 "College students are focused on the 'why' of what we do in producing livestock today," he said. "When I have the opportunity to explain the reasons behind our management practices, such as why my family has moved from raising pigs outdoors to climate controlled barns, they come away with a better understanding."
Bruce also appreciates the work that Ag United does to help farm families who are looking to expand or build new livestock barns, including support with planning and zoning meetings.
Bruce was involved in chores on his family's farm throughout high school, and began farming full time in 1981 with his father, Wayne, and brother, Brian. In the mid-1980s, the Burkharts began a 125 sow farrow-to-finish operation, then built hog finishing barns in 1998 and 2008.
Bruce and Julie have five children: Brandon and Jase are part of the family farm business; Katie was an officer in the U.S. Navy and now works for a U.S. Senator; Jenny will graduate from South Dakota State University in May 2017 and Abigail began college at SDSU in fall 2016. Julie Burkhart worked with Bruce on the farm for 20 years, then earned LPN and RN degrees and works at Avera in Sioux Falls.