Nutrition is Key to Raising Healthy Turkeys, November Featured Partner Profile
Posted: 11/6/2017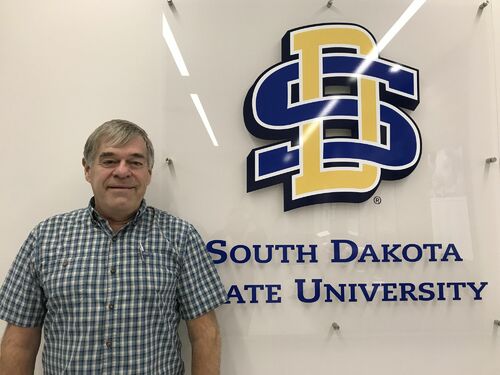 Thanksgiving dinner is one of the most anticipated and planned for meals of the year for many Americans. Whether it is the time-tested recipe for stuffing or a new turkey brine recipe discovered on Pinterest, traditions and new ideas often come together to make a meal that families and friends enjoy together.
Did you know that it also takes detailed planning and a combination of new and traditional farming practices and technologies to make sure that the turkeys that are the centerpiece of many tables are healthy, nutritious and delicious?  Bob Drake, President CEO of McFleeg Feeds in Watertown, South Dakota, has spent his career working with farmers to make sure their turkeys and other livestock receive the best nutrition and care possible.
Bob was one of eight children raised on a small family farm near Platte, South Dakota.  He earned bachelor's degrees in Animal Science and Ag Education at South Dakota State University, as well as a master's degree in Animal Nutrition.  He worked as Nutritionist for McFleeg Feeds for 20 years until he partnered with Tim Anderson and Marshall Olson to buy the company from its founders in 2001.  Tim and Marshall lead the company's sales efforts. The company currently has 22 employees, with an average tenure of 14 years.
McFleeg Feeds was founded by Boyd Fleeger and Dr. Dick McCullough in 1976. The company focused on working with farmers and creating a formulated "premix" of vitamins and minerals that poultry and pig farmers could add to feed on their farms. 
Just like human diets, turkeys need a combination of protein, carbohydrates, fats, minerals and vitamins to help them reach full growth potential.  Soybean meal is a primary source of protein (In fact, the 5 million turkeys raised in South Dakota consume about 51,000 tons of soybean meal each year!), and other ingredients including corn, liquid fat, calcium, phosphorous, salt and others.  The average turkey eats about .8 pounds of feed each day, of which .5 pounds is corn.
McFleeg Feeds is always looking for tested ways to improve birds' gut health and prevent illness so they don't need antibiotics or other medications.
"We work with other nutritionists and companies from around the world to deliver products that work," said Bob.  "We have used chelated trace minerals, enzymes, probiotics, prebiotics, essential oils, yeasts, oligosaccharides and many other natural products for decades to improve animal health and performance and minimize antibiotic use."
Over the years, McFleeg Feeds has evolved to meet the needs of their farmer customers, including meeting the demands that food companies and consumers have for their meat and poultry products.  They currently offer a full range of vitamin premixes and other specialty products.  Their production facility in Watertown is a drug and animal protein free plant, and delivers feed to turkey, dairy, beef and other poultry farms.
"Raising and feeding livestock today is a lot more than just vitamins and minerals. It is the whole program that makes an operation a success," he said. "Our nutritionists and veterinarians spend a lot of time in the barns seeing what works and doesn't work to carefully monitor birds and stay ahead of any possible issues."
The management practices for caring for poultry have evolved. For example, the large barns that house turkeys are specially designed to provide feed, water, bedding, protection from weather conditions, diseases and predators. 
Another change in turkey production over the years is the size of birds.  While there are some misconceptions that hormones are given to birds, it is actually a combination of better genetics, feeding programs, facilities and management that allows turkeys to grow larger.
Poultry and livestock production also boost rural economies and small towns, and Bob sees strong potential for turkey and poultry farmers in South Dakota.
In September, Hendrix Genetics broke ground on a $25 million turkey hatchery in Beresford that will hatch and transport day-old turkeys to farms across the Midwest.  The Hybrid Turkey hatchery will employ about 100 people and ensure that regional turkey farmers have more access to genetics and birds for their farms.
Bob is a member of the board of directors of the South Dakota Poultry Industries Association and serves as an alternate to the Ag United board of directors.