Featured Farm - Boadwine Dairy
Posted: 12/12/2014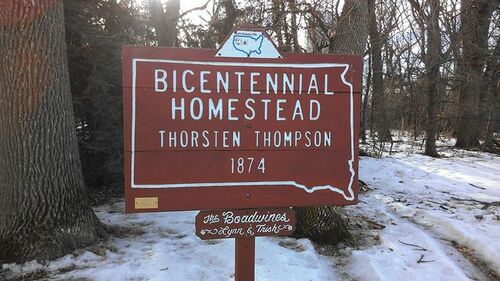 For many, the Christmas season provides an opportunity to take time off to spend with friends and family. Whether it is traveling to visit relatives, or just having a few extra days to spend at home, it is often a time for a much-needed break.
For South Dakota's farm and ranch families, however, holiday plans are typically made around livestock chores and schedules. Holiday or not, cows need to be milked, and all animals need to be fed and cared for. And, sometimes Mother Nature adds to the challenge.
"Cows don't take the holidays off," said Heidi Selken, herd manager for Boadwine Dairy. "Dairy farming is a 24/7 operation. We work hard to give everyone time off as much as we can for holidays, but we do have to get milking, feeding and chores done every single day of the year."
Boadwine Dairy is a family farm near Baltic that has been family owned and operated since 1874. They milk about 1,700 Holstein cows three times a day. They also farm about 2,000 acres, raising primarily corn and alfalfa. Nearly all the crops produced are used to feed the animals at the dairy. Boadwine Dairy also raises their own calves and heifers.
Christmas Day 2009 is one that Lynn Boadwine, the Boadwine family and employees will never forget.
If you lived in the South Dakota during the winter of 2009-2010, you likely remember it as the year that holiday travel plans were changed by nearly two feet of heavy wet snow in the days just before Christmas. Record snowfall and frigid temperatures made holiday travel nearly impossible and the colder and snowier than normal conditions continued well into January and February.
At Boadwine Dairy on Christmas morning, a section of a roof of one of the dairy's freestall barns collapsed under the weight of the snow. Fortunately, one pen of cows from that barn was in the milking parlor, and most of the remaining cows moved quickly away from the damage. No employees were injured, and only ten cows died as a result of the collapse or injuries they suffered.
"We were fortunate because things were running behind that morning. The weather kept a milk truck from getting to the dairy, so we had to slow down milking. If we had been on time, that pen would likely have been full of cows," said Lynn Boadwine.
After the damage to the barn, Lynn and employees started looking at all the roofs, and found a couple other places that looked like they were under stress. Lynn Boadwine immediately called for help, and local contractors, friends, family and neighbors answered.
Within just a couple hours, two trucks of lumber had arrived from the local lumberyard, and contractors, employees and neighbors were building reinforcement columns to prevent further damage and shore up the rest of the barn. Local law enforcement helped by having roads to the farm snow plowed to aid contractors and supplies. Read an article from DairyStar in January 2010 about the roof damage and cleanup efforts.
"We were also fortunate that the electrical feed was not damaged so that we could continue milking on schedule and keep the cows in good health," said Lynn.
Heidi Selken said that while the damage to the physical buildings was easy to see and could be repaired, another big challenge was getting all the cows back on track after their schedule and surroundings were disrupted.
"At Boadwine Dairy and most dairies, we group cows together by where they are at in the lactation and reproduction cycle," she said. They receive special diets and are monitored depending on how recently they had a calf, whether they are pregnant, and how much milk they are producing.
The first response was to make sure that all employees were safe, then take care of any cows that were trapped or injured. Cows from the damaged barn were moved to other barns and mixed in with other pens and groups. Heifers (females who have not yet had their first calf) were moved to a neighbor's barn and milking cows were moved to the heifer barn.
She said that when cows were moved after the roof collapse, they weren't able to keep all the groups together.
"It took a couple months to get the barn repaired and back up to hold cows. It took even longer for all the cows to get back on a routine and in the right groups," said Heidi. The disruption in schedule and surroundings also affected cows' milk production.
Nearly five years later, Lynn remembers the snowstorm's damage and the work it took to rebuild barns and bring the milking herd back to a normal routine, but most importantly he is thankful for the contractors, employees, public officials, neighbors, friends and family who gave up their own holidays to help at the farm.