Black Hills Are Top Destination for Cattle, Too
Posted: 10/3/2017
October Featured Farmer Profile: Jeff and Jodi Sleep
The Black Hills are a popular tourist destination for people from around the country and the world.  In addition to Mount Rushmore and many tourist attractions in the area, the Black Hills National Forest is used for public hiking, camping, mountain biking, horseback riding, wildlife viewing and more.
For Jeff and Jodi Sleep and many other South Dakota ranching families, land within the Black Hills National Forest is also an important place for grazing for their cattle each summer.  Since 1905, the U.S. Congress has authorized regulated livestock grazing through permits on National Forest System Lands.  On the Black Hills National Forest, there are about 144 permittees grazing more than 24,000 head of cattle, usually cow/calf pairs.  Grazing is typically allowed June through October, depending on weather and grass conditions.
The Sleep's home and ranch is located west of Spearfish, South Dakota.  They have been ranching together with Jeff's parents, Richard and Karen Sleep for 27 years.  They have a herd of about 600 Angus and Simm/Angus cows. Calves are born in the spring and stay with their cows through their first summer, then are raised, or "backgrounded," at the home ranch through the winter.  They spend the next summer grazing on grass pasture and are sent to a feedlot in Nebraska in mid-summer.  The Sleeps raise alfalfa hay and winter and spring wheat in rotation on both dry land and irrigated acres.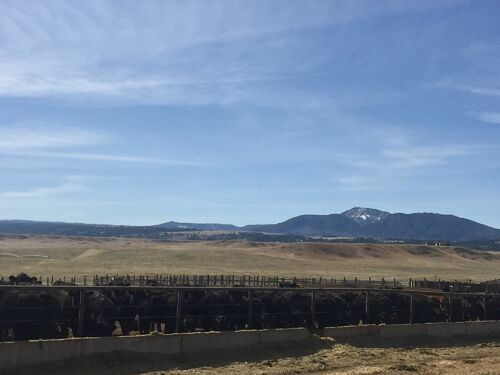 Cattle are backgrounded at the home ranch through the winter.
"The Black Hills offer a lot of benefits for raising cattle – good grass, good water and not many flies. The weather can be a little cooler in the Hills, so cattle perform and gain weight more quickly," said Jeff.
While grazing fees for forest permit land are less expensive than renting from private land owners, it does come with additional maintenance, diverse challenges and hidden costs.
"The forest permit lands are multi-use lands, so there can be a number of people using them at any time," said Jeff.  "We do have some challenges with people leaving gates open or damaging fences, which can allow cattle to get out.  As permittees, we are responsible for all maintenance of fences, improvements and we are expected to keep the cows in their assigned pastures at all times.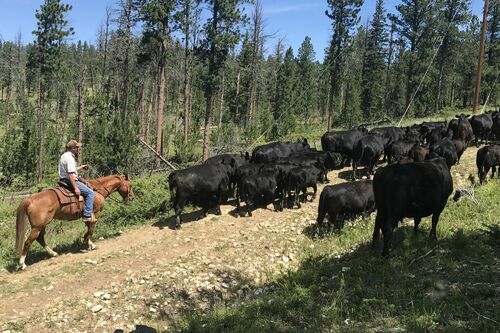 Jeff Sleep trailing cattle through the hills to their summer pasture.
After summer grazing season is over in October, the Sleeps move cattle back to pastures near the ranch for wintering and to be monitored more closely during calving season in February. 
They also carefully manage their pastures to ensure the best feed and so the pastures are not over-grazed and will be sustainable for years to come.  The Sleeps have started using more 'intensive grazing' practices which means putting cattle on a pasture for a short time, then moving to another pasture.  It takes about seven days for cattle to graze off a pasture, then the cattle are moved to allow that grass to regrow for the next season."
"It is more management intensive – we have to move cattle alot – but it is has sure improved both the health and carrying capacity of our pastures," said Jeff.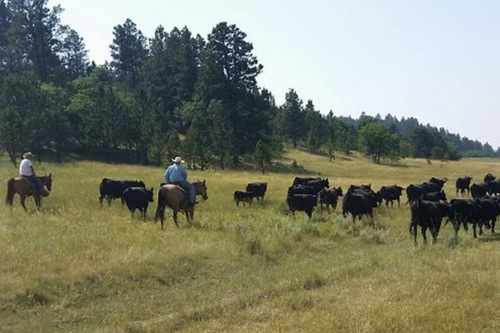 The Sleep Family moves cattle frequently to ensure pasture health.
One hundred years of family history gives the Sleeps a long term perspective and respect for the land.
Their families came to the area in the 1880s to work in the Homestead Gold Mine and gradually bought land and began raising cattle by the 1920s and 1930s.
Jeff and Jodi have three children who are all students at South Dakota State University:  Samantha is a senior nursing major and is married to Carl Anderson; Sydney is a senior agricultural communications major; and Carson is a freshman agricultural business major.
The Sleep Family L to R: Sydney, Jodi, Carson, Samantha, and Carl
The Sleeps own and operate a private campground in the Black Hills in addition to ranching and raising crops.  They are also active in local organizations, including serving as 4-H leaders and active in Faith Bible Church. Jeff serves on the Spearfish School Board and has completed service as a member of the Western Advisory Board for the Wildlife Division for SD Game Fish and Parks.  Jodi is a member of the Spearfish Community Coalition for Drug Free Communities.
The Sleeps also share information about beef production and how cattle are raised with customers of their private-labeled Sleep Legacy Beef home raised beef.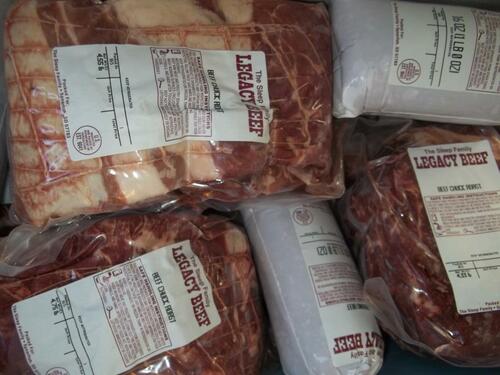 A few packages of Sleep Legacy Beef.
"The main reason we started to sell private labeled home raised beef was to give us the opportunity to help dispel some of the many myths about beef production, health concerns, and safety," he said.