Big Sioux River Project raising awareness, improving water quality
Posted: 9/14/2021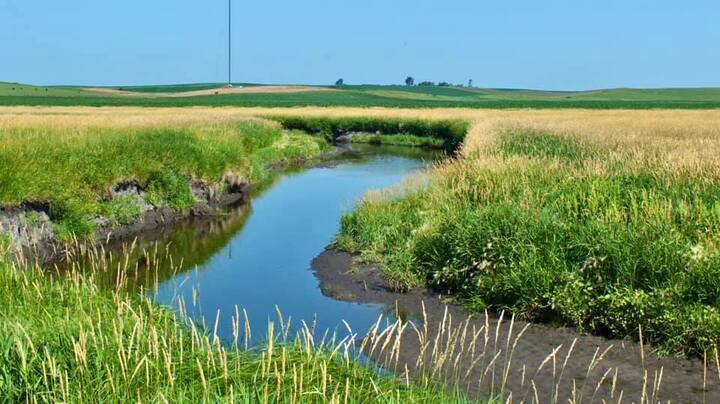 Big Sioux River Project raising awareness, improving water quality
Thinking out of the box and building new partnerships are key to protecting and preserving one of South Dakota's most precious resources: water. 
The Big Sioux River Project is a non-government project of the East Dakota Water Development District and Minnehaha Conservation District that works to improve water quality in the Big Sioux River and the entire watershed.  The program also raises public awareness of water quality issues and monitors the health of the river and its tributariesBarry Berg, senior watershed project coordinator, has been focused on improving and preserving water quality for more than 20 years. He grew up in rural Minnesota and earned his bachelor's degree at Mankato State, and his graduate degree at South Dakota State.  In 2020, Berg was also named to the U.S. EPA's Farm, Ranch and Rural Communities Committee (FRRCC).
The program that is now the Big Sioux River Project started in the late 1990s as an assessment and testing project for the Big Sioux River watershed, and has evolved over the years to include important partnerships and collaborations with cities, farmers and government agencies.
"We are all in this together.  We all want to improve water quality," said Berg.
Alexa Kruse joined Big Sioux River Project in 2020 as watershed project specialist to work on the project's public presence through education, information and outreach.  She grew up outside of Brandon, SD, and graduated in 2018 from the University of South Dakota with a degree in Biology and Sustainability.  After working for a year in New Zealand, she returned to South Dakota. 
"I'm excited about the work that is happening with Big Sioux River Project because it sets a great example for other watersheds," she said.  "The work we do with farmers and livestock producers has a direct and measurable positive impact on the environment and therefore the health and wellness of the people using the river downstream."
Since 2011, hundreds of partnerships with producers and landowners have been formed, through the Big Sioux River Project and over $19 million invested in water quality, making a big difference in quality of water and protecting health of animals, people and soils. The program currently has 3,110 acres of riparian buffer programs protecting 85.7 miles of rivers and streams.  Other states are also adopting a similar approach to watershed management, including Minnesota and Kansas. 
A key element of the program is designing and implementing BMPs, or Best Management Practices, for agricultural land adjacent to or near the river.  The goal of most of these projects is to reduce the levels of bacteria and sediment in the river and streams.
"In 2012, we started thinking out of the box and started hosting meetings and discussions with farmers to find new ways to improve water quality in the area," said Berg. 
A program that came out of these conversations was finding ways to limit livestock standing in streams and rivers while grazing in pastures.  They developed a pilot Seasonal Riparian Area Management program with South Dakota Department of Agriculture and Natural Resource to limit ability of livestock to access water during the summer when rivers are used for recreational activities and temperatures are warmer.  By adding water tanks to pastures and providing shade with trees or alternative structures, cattle can stay cool while grazing away from the water, then can be moved back to pastures near the water when temperatures are cooler.
"There are lots of tools and resources available to farmers and landowners to be tailored to their needs and land," Berg said, noting options and programs for educational resources, cost shares and tools through Natural Resource Conservation Service and other agencies.
Other practices that have a positive impact on water quality include planting grass along waterways, adding filter strips and adding terraces to fields to minimize water runoff.  Cleaner water downstream also means that less resources need to be used to treat water for other uses. 
Berg said positive progress has been made in working together with cities like Sioux Falls whose leaders understand that everyone involved is both part of the challenge and the solution of water quality in the state. 
"A producer may have land along the river where you can see that direct input, but a homeowner in town isn't so far removed from water as they might think," said Kruse.  "Storm drains are everywhere and they drain from driveways, lawns and gutters directly into streams and rivers.  Since we all have an impact, we all have a hand in improving and protecting water quality, just in different ways."
As part of its efforts to increase awareness of water quality and actions that can be taken by farmers, livestock producers and city residents, the Big Sioux River Project has launched several new communications and education programs over the last year including a new website and social media channels.
"We need to have more people part of the conversation, because everyone brings new ideas for what will work," said Berg.  "Working together with neighbors and across communities is the key to water quality."