Best Wishes to Steve Dick
Posted: 4/5/2022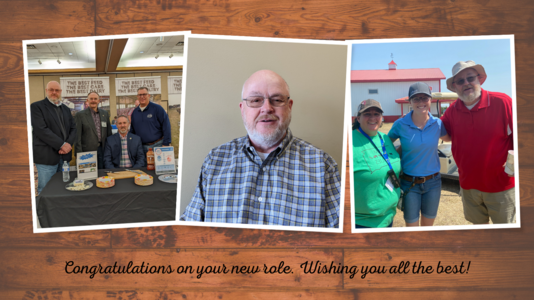 It is a bittersweet day at Ag United for South Dakota.
Today is Steve Dick's last day as Executive Director at Ag United.  We appreciate his leadership in building and growing our organization over the past 17 years, and wish him the best as he takes on a new role as the State Executive Director for USDA Farm Service Agency in South Dakota.  He will start the new role on April 11.  
Ag United was founded in 2004 by a coalition of ag organizations with a mission of promoting and advancing farm and ranch families and rural communities in South Dakota.  Over the years, Ag United and South Dakota Farm Families have built connections and shared information about modern agriculture with tens of thousands of South Dakotans at programs including farm open house events, Farms after Five and Know Your Milk bus tours, restaurant crawl events, and participation at popular events like Family Fest and Expo for Her.  Each year, farmers and ranchers are adopted by dozens of classrooms and farmers host pizza parties for National Ag Day across the state. And, Steve and the Ag United team have supported farm and ranch families in 32 of South Dakota's counties with zoning help for local and county hearings for expansion or new construction projects.
"We wish Steve well in his new role and want to thank him for his years of leadership," said Richard Vasgaard, Centerville farmer and president of the Ag United board of directors. "We appreciate his dedication and commitment to growing agriculture in South Dakota."
Steve brought both a production agriculture and policy and outreach background to the creation of Ag United, and both have been valuable as he worked with organizations as well as farm families, consumers and local officials.