August Featured Farmer - Merrill Family
Posted: 8/8/2016
Every year since 1880, families have enjoyed entertainment, food, exhibits, contests and activities at the Turner County Fair in Parker. The state's oldest county fair welcomed more than 100,000 people in 2014 and will open for its 136th run August 15 through 19.
Preparing for the event known as "The Best Four Days of Summer" is a year-round labor of love for volunteers, FFA members and 4-H members in Turner County. For many families – including the Merrill family of Parker – exhibiting and working at the fair is a tradition that goes back several generations.
Bob and Joyce Merrill began farming with his father in 1968. Their son Allen returned to the farm in 1981, and his grandson Shane joined the farm in 2011.
They milk about 150 cows, raise Holstein steers, and grow corn, soybeans, alfalfa and oats. The first priority for crops grown on their farm is to feed the cattle, then additional production of hay, corn and soybeans are sold.
"When Allen came back to the farm, I had more time to be involved in the community and county," said Bob. He was elected to the county commission where he served for a time, then the manager of the Turner County Fair resigned and Bob decided he would rather serve as the fair manager. He served in the fair manager role for 21 years, stepping back to assistant manager this year.
Over the years, family members have played a variety of roles. Dana Matthies is a member of the 20-person fair board, Linda Reynolds helps with the 4-H programs, and Katie Merrill worked in the fair office this summer.
"My grandad and dad both showed animals at the fair, and it has been fun to see my grandkids participate as well," said Bob.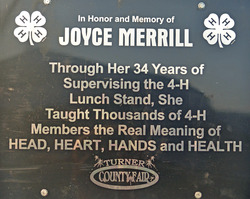 Joyce Merrill managed the 4-H Food Stand at the fair for 32 years. She passed away six years ago, but her spirit and passion live on.
"We helped at the food stand throughout the years, whether we wanted to or not," said Allen with a smile, noting that helping at the stand was probably the first fair job for Bob and Joyce's 10 grandchildren.
Area 4-H clubs and FFA programs provide a strong foundation for the fair.
"The fair wouldn't be what it is without 4-H and FFA," said Bob. "We're fortunate to have the 4-H program we do in Turner County. Participation numbers have increased each of the past 10 years."
Shane Merrill was active in 4-H and FFA and said the lessons learned in preparing for and working at the fair were valuable to prepare him for a career in farming.
"The FFA chapters in the county organize and manage Old McDonald's farm where animals are on display," he said. "It was a lot of work to organize the scheduling and make sure all the animals were fed, watered, and cared for throughout the fair, but a really good experience to see kids learning about them."
The Merrills' dairy farm is just a mile outside of Parker and the fairgrounds, so they also are able to offer a learning opportunity to 4-Hers who live in town. Each year seven to 10 kids "adopt" calves from the farm to show at the fair. 4-H members from town can ride their bikes to the farm every day to work with their calves and get them ready to show at the fair.
"With fewer kids growing up on farms, this gives them the opportunity to see how animals are cared for and the amount of work and responsibility it takes to raise a calf," said Allen.
The calves return to the Merrill farm and eventually have their own calves and enter the milking herd.
"We often have kids come back to visit their show calves and are always curious about how they are doing," said Allen.
The fair itself has evolved to not only showcase agricultural production, but more importantly to share information with visitors who aren't familiar with modern crop and livestock production.
"Members of 4-H and FFA are encouraged to interact with fair visitors and be open and honest about how they raised their animals," said Allen. "When they are doing chores, they take time to explain what they are doing and why they are doing it."
County and regional fairs will be happening across the state in August, with the South Dakota State Fair in Huron in September. Enjoy the fair food, midway rides and grandstand entertainment, but also take a few minutes to check out 4-H and FFA exhibits and livestock barns and see the results of their year-round work.