Ashley Gelderman - A Passion for Pigs
Posted: 10/23/2017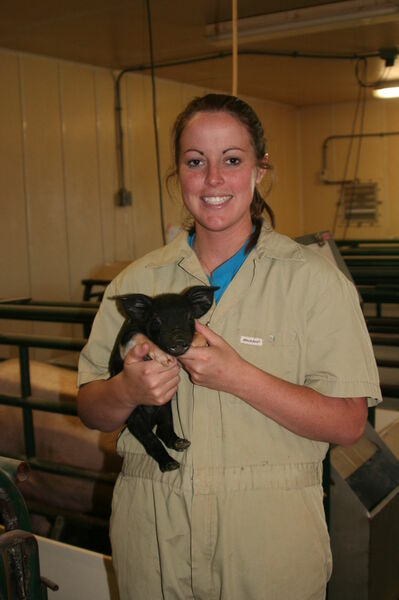 Ashley with one of her piglets from her M.S. research
Farmer's Daughter Guest Blog
Growing up on a 4,000 head sow farm outside of Salem, SD, my passion for pigs started early in life. Farrowing (birthing of baby pigs) occurred everyday on our farm.  Being the youngest of three children, I followed my dad and brothers out to the barn any chance I could.  I loved holding newborn baby piglets, one of my fondest childhood memories, is holding the runt pigs and rocking them to sleep.  I learned at a young age the care and attention that is needed to make sure newborn piglets are started off right. 
My passion for pigs lead me to South Dakota State University, where I received my B.S. in Animal Science as well as an M.S. in Monogastric Nutrition. From there, I was fortunate to start my career in the swine industry. I have worked for other farms in farrowing to wean systems, and for SDSU Extension.  Currently, I work for Standard Nutrition as a nutritionist where I formulate diets for pigs and turkeys as well as offer trainings and site assessments to help improve on farm practices.
I have the opportunity to help many pig farmers throughout the upper Midwest by formulating the best possible diets for their pigs based on their needs and wants.  My role in formulating pig diets includes the opportunity to regularly walk barns and work with many farmers to offer individualized nutritional advice to help them ensure a happy healthy hog and ultimately a healthy pork product in the grocery store.
There are many different career opportunities available for men and women in the swine industry.  A person can be hands on with pigs whether it be on a sow farm, nursery, or on a finishing level.  They can formulate diets, sell specific feed products, mix feed at a feed mill, or deliver feed to a customer.  Just like humans need doctors, veterinarians are needed to diagnose pigs that get sick. Another opportunity is selling pharmaceuticals to treat pigs that may need treatment after they have been diagnosed by a veterinarians and a health treatment plan is developed.  Truckers are also needed for the transportation of pigs at various stages of life or working in a harvest facility. 
While my role in the swine industry may be a little different than what I envisioned when I was younger, I would not have it any other way.   It may take a little bit to find your passion and drive, but once you do it is worth it. Find something you are passionate about so when you share about your job and experiences others get excited with you.
In addition to my career in the swine industry, I am a mom to two girls ages four and two.  Along with my husband, Tony we raise cattle, corn, soybeans and hay. Even though my kids will not grow up in a swine barn like I did, I make sure to tell them about my job so they have an understanding and knowledge of pig farming. In the future, they may have 4-H pigs, but for now they are still getting their first-hand agriculture experience bottling feed calves, moving cows from pasture to pasture, feeding steers, and riding horse.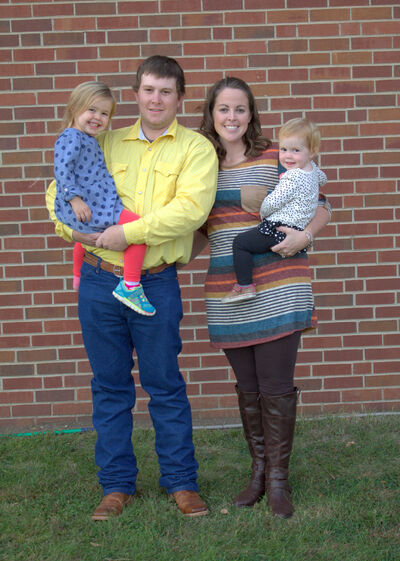 Tony, Ashley, Sadie, and Seneca Gelderman
Listen to Ashley's Farmer's Daughter radio segment here: 10.23.17 FD Ashley Gelderman.mp3
*Listen weekly to the It's Your Agribusiness Show on KELO 1320 AM and 107.9FM for the Farmer's Daughter segment, Mondays between 10:00 a.m. and 11:00 a.m.