April Showers Bring Busy Farmers
Posted: 4/5/2017
April Featured Farmer - Ben Roling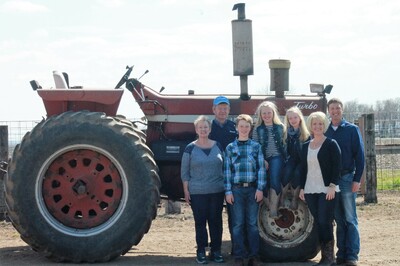 As calendars turn to April, so do our hopes for warmer weather, green grass, and full-fledged arrival of spring. The promise of a fresh start often leads to plans for spring cleaning, home improvement and gardening projects.
South Dakota farmers and livestock producers like Ben Roling of Salem, are no different. Spring brings a new beginning for crops and animals, and a long to-do list to get ready for fieldwork and care for livestock.
While Ben and his father don't typically start planting their soybean and corn crops until the temperature of the soil warms up to about 50 degrees, there is plenty of work to do to prepare.
Each year, they make any needed repairs to tractors, planters and tillage equipment, and make sure everything is serviced and ready for the field. They also haul grain from bins on their farm to market.
They also finalize planting plans for each corn or soybean field, including seed varieties, and the need for fertilizers and crop protection products to ensure good yields. Typically, those decisions start immediately after fall harvest and are made throughout the winter in partnership with agronomists and others.
Recently, technology has allowed that planning process to be even more precise. Ben uses GPS and monitoring equipment to create detailed maps showing how crops yielded in each part of the field. By understanding what areas of the field are the most productive, he can develop a plan or prescription to vary the amount of seed and fertilizer in each area. The goal? Ensure that they aren't applying too much fertilizer in areas where it isn't needed, and to make the most of the productive areas of the farm.
Variable rate technology on planters, sprayers and manure spreaders allows farmers to follow the prescription to plant or apply exactly the right amount throughout a field.
Ben and his wife, Jennifer, farm with his parents Barney and Gail Roling. Ben is the fifth generation on the family's farm where they raise corn and soybeans, feed cattle, and raise pigs in a 2,400 head finishing barn. Ben and Jennifer have three children: Landon is in 6th grade, Lauren is in 4th grade, and Alyssa is in 1st grade. Jennifer is also a nurse at the NICU at Avera McKinnon hospital in Sioux Falls.
"I've been involved in the family farm my entire life," said Ben. "I grew up working with Dad and Grandpa as much as I could." When he graduated from Lake Area Technical College, he joined the farm full time.
Raising both pigs and cattle keep the Rolings busy year-round.
"There is never a dull moment with both grain and livestock on the farm," said Ben.
The Rolings own a share in a sow barn where piglets are born and raised until weaning. Pigs arrive at their barn at 20 days old and approximately 13 pounds. When they arrive, they are watched closely to make sure they transition well and stay healthy.
The Roling family has hosted "Farms After Five" tours for South Dakota Farm Families and Ben recently became a board member of the South Dakota Corn Utilization Council.
"Hosting tours gives us the opportunity to talk about and show how we take care of crops and livestock," he said.
As you tackle your spring "to-do" list, keep in mind that farm and ranch families across the state are doing the same!