April Profile: South Dakota Agricultural and Rural Leadership
Posted: 4/12/2022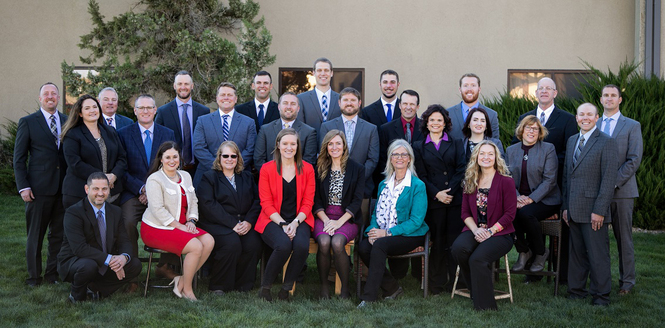 For 22 years, the South Dakota Agricultural and Rural Leadership (SDARL) program has focused on providing South Dakotans from across the state with the tools, confidence and connections to make their rural communities and South Dakota agriculture stronger and more vibrant.
 Ten cohorts have completed the 18-month program since the first class launched in 2000, with the eleventh group underway.  Each cohort includes around 30 individuals ages 25 to 55, who are working in farming, ranching, or an allied field such as ag finance, inputs, biofuels, transportation, and others.  The goal is to bring together a group that represents all agricultural disciplines in the state so that everyone learns about leadership together and benefits from diverse experiences.
 Each cohort meets for 12 seminars that are usually three days in length and held at locations across South Dakota. One week is spent in Washington, D.C to gain insights into policy-making at the national level. The class allocates two weeks to study in a foreign country, examining the global nature of agriculture and the challenges of feeding the world.
 Cindy Aman and Brandon Hope are both members of SDARL cohort XI, which launched in fall 2021.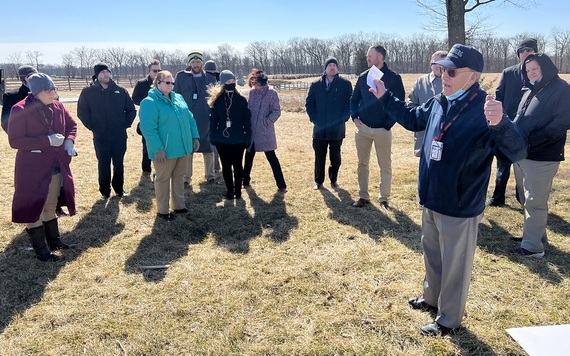 Aman and her husband Darwin own and operate Hillsview Farms near Hillsview, South Dakota, along with their three sons, Andrew, Sam and Alex.  They run a cow/calf operation and feed the calves all the way to finished weight. They also have a herd of registered Polled Herefords and sell bulls annually off the farm. They raise crops for feed for their own cattle and also sell corn and soybeans to market.  She has a B.S. in Animal Science with a Business option and a minor in Economics from South Dakota State University.
 She had followed the SDARL program for years and thought of applying several times, but didn't feel she could make the expected time commitment. 
"Now as an empty nester, not currently serving on any board of committees, I decided it was now or never," said Aman.  "I had always heard good things from SDARL alumni, and think the program has a lot to offer with a very educational agenda every seminar."
 Building relationships with the other cohort members has been one of the most valuable parts of the program for Aman, especially bringing together people of various age differences and all areas of the ag industry to collaborate with each other. Several speakers have highlighted the importance of advocacy in agriculture and that everyone is in charge of their own story and messaging. 
 "Through SDARL, I have learned that there isn't always someone else to serve in leadership roles.  We all need to 'stand up, step up, and get to work' as Dana Dykhouse told us," said Aman. "I will try to bring the positivity back to my family and community.  We are all responsible for our actions and the future of the ag industry is dependent on us."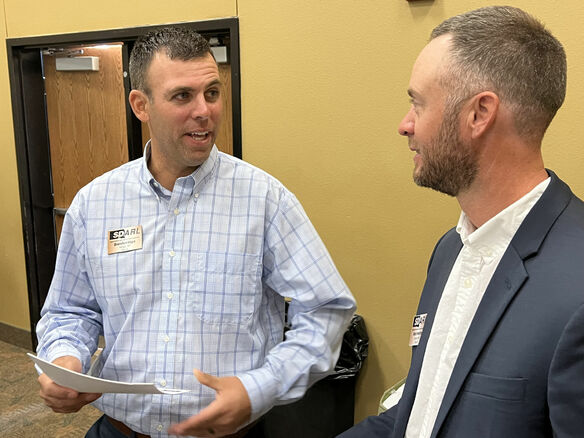 Brandon Hope is a fourth-generation farmer from Sinai, South Dakota.  He returned to his family's farm in 2010 after receiving his B.S. in agriculture from South Dakota State University and working in landscaping for two years after college. He shares operation of their 2,100-acre corn and soybean farm with his father where they are always looking to adopt new technologies and practices to stay on top of the ever-changing agricultural industry. Hope and his wife, Leah, have three children: Westin (12), Bryston (5), and Vivian (3).
 He has appreciated the unique learning opportunities at each of the seminars so far, including tours and hearing from Coach John Stiegelmeier and Dana Dyhkhouse at SDSU, learning about state politics and meeting leaders in Pierre, and a weeklong trip to Washington DC where they met with various leaders and toured Gettysburg National Cemetery.
 Hope said the SDARL experience has helped him understand himself better and open up to new perspectives in making decisions for his business and community.
 "There are so many different ways the world is viewed today, and the experiences of others must be taken into account.  I think about how the decisions will not only affect me, but also those around me," he said.  "Having an open mind and not shutting down others' ideas because they aren't your own is key to finding the right answers to problems.
 He is looking forward to continuing to develop his leadership skills and build on the training opportunities.
 "SDARL has given me so many tools from public speaking to networking to just listening, that I can use in my community, business and personal life," said Hope.
 "Our mission at SDARL is to identify and develop leaders for agriculture and rural communities in South Dakota," said Don Norton, SDARL CEO. "It's wonderful to see class members grow in their understanding of the skills, knowledge, and character of leaders. The 326 graduates and class members of our flagship program are making a significant impact in our state, and we all benefit from their engaged leadership."
 In addition the to the 18-month program, SDARL also offers the SDARL Learning Network, which includes lifelong-learning programs for alumni and leadership training for partner organizations, such as commodity board members, FFA advisors, community non-profit boards and rural community leaders. Learn more about SDARL at www.sdagleadership.com.