Posted: 1/21/2015
This week we are excited because South Dakota has recently been named the number one most agri-business friendly state! Agriculture is our state's number one industry, and it is what keeps many small communities in our state alive and thriving.
I grew up 13 miles outside of town, but I consider Platte my hometown. Platte is definitely an agricultural based community, even if people don't always realize it. Many of the largest employers in the community serve farmers. The machinery dealer, equipment manufacturer, elevator, and even the banks are there to help farmers. Without these businesses, we would have to travel much farther to get what we needed on the farm. There would also be significantly fewer jobs in our small community.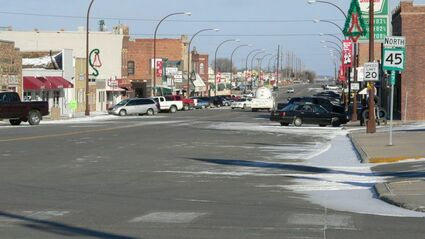 Small town ag businesses are the backbone of many communities. They provide the opportunity for people to stay in their hometown if they would like with a variety of jobs that require a variety of skills. These small businesses need welders, mechanics, and agronomists as well as accountants and sales professionals. As more and more farmers adopt new technologies, employees with precision agriculture or other tech backgrounds are in high demand.
Strong ag employers provide a population and income base for others to open up a family café, or start a photography business. Especially in small towns, the entrepreneurial spirit is alive and well.
While many small town businesses employ only a handful of people each, all those small businesses add up to a big economic impact to our state. Agriculture employs more than 122,000 South Dakotans and has a $21.4 billion impact on our state's economy each year.
When I was young, I was always excited to hop in the pickup go to town to run errands with my dad. While we were in town we might have been picking up a part to fix the tractor, dropping an animal off to get a check up at the vet clinic, or maybe just stopping by a business to pay some bills. Whatever the reason we had to go to town it was fun to stop by the businesses that support our farm, and chat with the owners and employees that became our friends over the years.
It's an exciting time to be an ag business in South Dakota, and we are proud to be recognized as an ag business friendly state.
Listen to this week's Farmer's Daughter radio segment here! FARMERS_DAUGHTER-JAN_19TH.mp3