"All Hands On Deck" at Dakotafest Pork Loin Booth
Posted: 8/6/2019
Dakotafest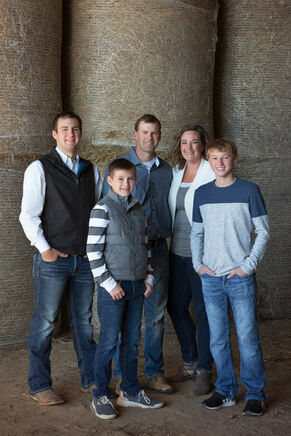 has grown to be the largest farm show in South Dakota, drawing an average of nearly 29,000 attendees from 13 states over its three-day run each year.  The show, to be held August 20-22, 2019, in Mitchell, features product demonstrations, educational sessions and activities, but one of the most popular stops is the Davison County Pork Producers stand featuring pork loin sandwiches.  
Planning for and running the booth is a labor of love for a small group of farmers each year, with the proceeds used to benefit their communities and share information about pork all year long. Throughout the show, the pork producers and a small army of students and volunteers will grill, slice, and serve about 3,000 pounds of pork loin.
Ryan and Amy Storm farm and raise pigs near Ethan, South Dakota, and have been involved with the Pork Producers' stand for more than 20 years.  
"When we make a sandwich, we don't skimp," said Amy.  "We want people to get a great sandwich that shows off our delicious pork.  We also try to keep prices reasonable for families who are attending."  
During the show, the grills are started early in the morning with the goal of having sandwiches ready by 10:00 a.m.  In addition to friends, family members and industry professional who volunteer at the stand, students from the Mitchell Technical Institute Ag Club help grill and serve sandwiches.
"It is great to work with our own kids and students from the Ag Club, and it is important for them to learn the community side of agriculture and be part of working together in the industry and promoting our product," she said.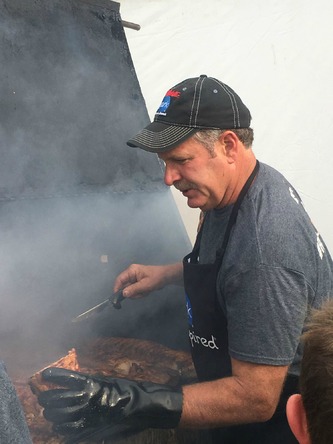 Proceeds from the stand are used throughout the year to promote pork at state and local level and to provide meat for cookoffs and fundraising events, holiday programs, and other activities. They also provide several scholarships to high school students in Davison County who are pursuing agriculture related degrees.  
The Pork Producers also grill meat for community events, weddings, and graduations, but as members are busier with their own farms and families, the Dakotafest stand is the primary effort each year.
Ryan and Amy dated in high school and married after graduating from South Dakota State University.  They joined Ryan's parents, Chuck and Dee Storm, in the farming operation in 1998.
"Raising pigs provided the opportunity for us to come back to the farm," she said.  They build a finishing barn and became shareholders in a Pipestone System sow barn, receiving weaned pigs and raising them in their own barns. They also raise corn, soybeans, alfalfa and cattle.
The Storms have three children: Jake graduated high school this spring and will attend Mitchell Tech in the fall studying precision agriculture; Kory is a high school freshman; and Luke is a 6thgrader.  
 "I was born and raised on a farm, and now as a mom, I wouldn't trade it for any place in the world to raise kids," she said. "There is no better place to learn life lessons of being neighborly, having a work ethic, caring for animals, and understanding lessons of life and death."  
Each family member has a role on the farm, and also keep busy with school activities and community groups. 
"Making a farming operation work with the five of us doing the work is not always fun, but we are learning how to solve problems together and work as a team," she said.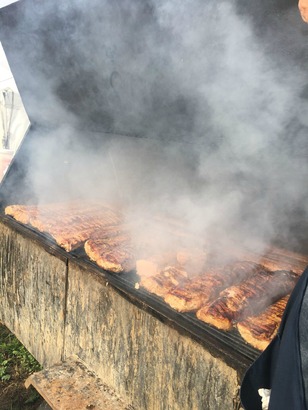 In addition to her involvement in the farm, Amy has a photography business, is an EMT on the local fire department and is president of the school board.  Ryan is active with the South Dakota Pork Producers Council, serving as president a few years ago and a member on various committees.  They are both members of the local township board and involved in their church.  
The Storms and other Davison County Pork Producers members are busy planning for the 2019 Dakotafest booth and looking forward to three days of working together and promoting the industry they love.
"As farmers, our goal is to share our stories and encourage people to enjoy the pork products we work hard to raise," she said.