Posted: 2/12/2015
January and February are an exciting time at Ag United because the farmers in the Adopt-A-Farmer program get to visit their adopted classrooms.
This year we have nine farmers in the program that are reaching 40 classrooms. 950 students are learning something new about local farming each month. During the monthly videos, farmers share about a specific aspect of their operation each month. This could range from harvest, to feeding their animals, to waste management. Many of the videos also connect what students are learning in the classroom to running a farm. Math, science, and technology are a big part of modern farm production. The farmers do an excellent job of show students how these skills are used in farming.
This month is when the classrooms finally get to meet their Adopted Farmer in person. The students are always very excited to meet the farmer they've been watching in their classroom the past few months. During our last classroom visit the farmer even got to sign a few autographs!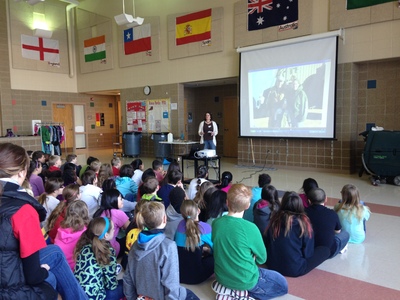 Heidi Selken speaks to students at Rosa Parks Elementary.
During the visit the farmer will explain a little more about their farm. This is a fun time for students because the farmer will often bring things that the students can touch, smell, and investigate. These items can be anything from the farm. Often farmers will bring a calf bottle or the feed that the animals eat. The students are often in awe of how much a baby calf can eat. When touching the feed, it's often easier for students to understand that animals don't eat the same types of food that we do.
The visit is also a great time for students to ask questions about what they've been learning. Sometimes the questions are simple, "What types of animals do you have on your farm?" Other times the questions are a little harder, "Do your cows make organic milk?". Although some questions may catch the farmer off guard, they are able to answer all of the students questions. We feel it is very important for students to have the ability to ask questions about farming to a farmer. They are the best source of information on the topic, and can speak from their own experiences.
The Adopt-A-Farmer program helps students and teachers learn more about where their food comes from, and the steps it takes to get food on the table. This program also gives it's participants a connection to a farmer in their local community, helps them understand more about the types of farms that are in their own backyard.
The farmers will continue sending out monthly videos to their classrooms until May. If you would like to watch past or future videos, you can visit the Adopt-A-Farmer YouTube channel. Videos and classroom visit photos will also be posted on the SD Farm Families Facebook, Twitter, and Pinterest pages.
Listen to this week's radio segment here! SD_Farm_Families_-_Farmers_Daughter_Feb_8th_2015.mp3