Posted: 9/21/2015
By: Rebecca Christman
Last weekend I had the privilege of standing next to one of my best friends as she married the love of her life. Right now farm weddings are all the rage, and everywhere you look you can find pictures of brides wearing boots, and newlyweds standing next to their favorite horse/barn/hay bale/field. However, for my friends Sarah and Jay, this wasn't just about adding cute farm details to their wedding, this is about the beginning of building their lives together on the farm.
No matter what you hear, the reality is that almost all farms are run by families. Much of the time, these farms or ranches look very similar to my friend Sarah's. A husband and wife working side by side, to create a farm, and a life, together.
For those people brave enough to be partners in life and a farm, it's a lifetime filled with ups and downs. One year you can be on top of the world with a plentiful crop, and great cattle prices, and the next year you may be struggling to pay off your loans because of a freak snowstorm. For farmers though, it's worth it because you get to do what you love, with the person you love.
Practicing the branding at the rehearsal.
Instead of lighting a unity candle, Jay and Sarah branded a piece of wood with the brand they own together. This was by far my favorite part of the ceremony, and to me signified not just the life they are creating together, but the farm as well.
This wedding was very special to me, but it's meaning wasn't unique to just this couple. Farm families across the county start their lives together in this way. These families then spend their lives working hard to put food on our tables. Farm couples like Jay and Sarah don't just have a farm themed wedding, they have a farm themed marriage. Congratulations to the happy couple!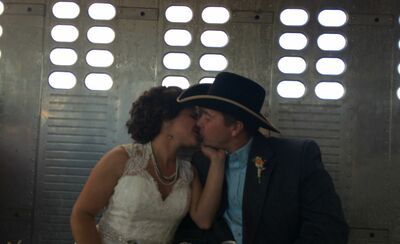 Who needs a limo when you've got a horse trailer?
Listen to this week's radio segment here! FARMERS_DAUGHTER-SEPT_21ST.mp3