7th Annual Day on the Farm at Royalwood Dairy
Posted: 6/5/2014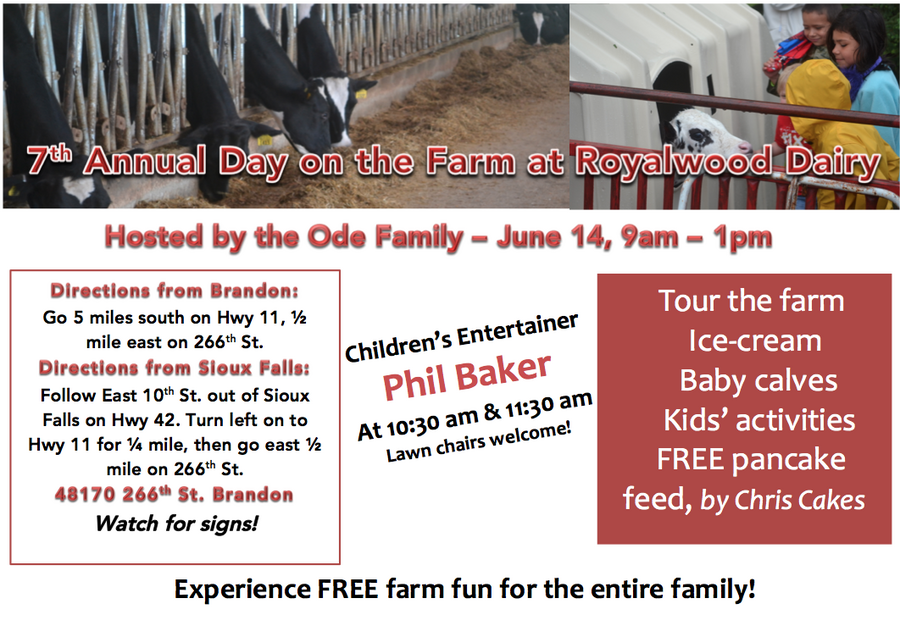 BRANDON, SD – The Ode family is celebrating June Dairy Month by hosting an open house on their farm, Royalwood Dairy near Brandon, on Saturday, June 14 from 9:00 a.m. – 1:00 p.m. The free, family-friendly event will provide guests with an opportunity to see first-hand where the dairy products they enjoy get their start. South Dakota Farm Families is hosting the event along with the Ode family.
Visitors can participate in guided tours of the dairy and learn more about dairy farming and how milk gets from the farm to the store. Children's entertainer, Phil Baker will provide entertainment for kids visiting the dairy at 10:30am and 11:30am. Families can milk "Bessy" the cow, make crafts as a part of Hood Magazine's Make N' Take monthly activity and participate in other family friendly activities taking place.
Since 2008 the Ode family has hosted an open house at their dairy every June in celebration of Dairy Month. "We appreciate the Ode family's willingness to open up their farm to their neighbors and folks from the surrounding communities," said Rebecca Christman, Outreach director for Ag United. "It is a great opportunity for people to see firsthand how committed South Dakota Dairy farmers are to their cows and the environment," added Christman.
Parking for the event is located at Preheim Lawn & Landscape located ½ mile east of the intersection of SD Highways 11 and 42. Shuttle buses will pick up and return every 15 minutes. 48130 SD Hwy 42, Brandon, SD 57005
The event is sponsored in part by South Dakota Farm Families and Ag United, Midwest Dairy Association and South Dakota soybean farmers and their check-off.
To learn more about South Dakota dairy families visit Midwest Dairy Association on the web at www.midwestdairy.com.