4 reasons to teach agriculture in the classroom
Posted: 8/26/2015
(Even if you're not an ag teacher)
By: Rebecca Christman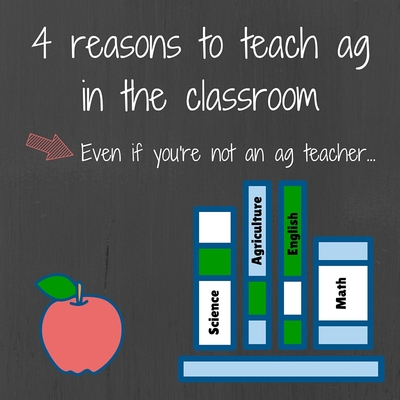 Summer is coming to a close and parents, teachers, and students all know what that means – it's time to head back to school! Although I'm not returning to the classroom, some of our farmer volunteers at South Dakota Farm Families will be! Below you'll find my top 4 reasons why it's great to bring a little ag education into any classroom.
1) Science, math, technology… you're thinking of a farmer right? If not, you should be! Each day a farmer thinks about how much feed he needs to mix in his ration for his cattle, what nutrients his plants need to grow, and how to use that new app he got for his planter. Using real life situations can help a student go from struggling with a concept to mastering it!
2) For many students, this could be their only chance to learn about where their food comes from. It's a simple as that.
3) Agriculture opens up a new realm of career possibilities. Less than two percent of the population lives on a farm, but 1 in 10 jobs in the United States are provided by agriculture and its related industries.1
4) Is there an easier way to engage all types of learner in the classroom than by having them planting a seed and watching it grow? Visual, auditory, and kinesthetic learners are all engaged, and they're learning math and science without even knowing. It's kind of like that secret helping of vegetables moms try to sneak into your food. (Kraft Mac & Cheese veggie pasta anyone?)
Each month during the school year, our very dedicated Adopt A Farmer volunteers record videos about what's happening on the farm and send them to 4th grade classrooms. These videos have talked about everything from planting crops to showing a calf being born. Each video also comes with questions the directly relate to South Dakota 4th grade standards. For many students, these videos are their connection to the farm.
You don't have to be going into the 4th grade this fall to keep up with these awesome videos! You can find South Dakota Adopt A Farmer on YouTube where all videos are uploaded each month.
For those of you that are teachers out there, here a few great resources to get you started incorporating ag lessons into the classroom.
This year's 4th grade lessons will be placed on our website!
Best of luck to all those heading back to school, teachers, students, and our adopted farmers!
Sources:
1) http://ers.usda.gov/data-products/ag-and-food-statistics-charting-the-essentials/ag-and-food-sectors-and-the-economy.aspx
Listen to this week's radio segment here: FARMERS_DAUGHTER-AUG24.mp3