2017 National Ag Week Activities
Posted: 2/28/2017
Ag United for South Dakota Hosts Multiple Events for National Ag Week
South Dakota Farm Families Spread the Word About Agriculture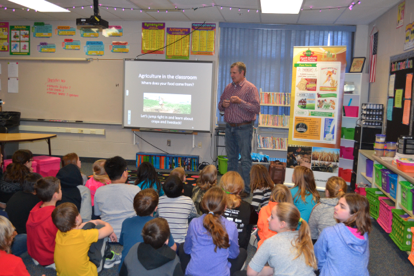 Brad Greenway, a Mitchell pig farmer, presenting to fourth grade students in Mitchell during Ag Week 2016.
SIOUX FALLS, S.D.—American agriculture provides the necessities of everyday life: food, fiber, clothing, and fuel. That's the message that farmers will share with South Dakota youth March 6 through 18 to celebrate National Ag Week, which is March 19 through 25.
Local farmers are giving back on Thursday, March 30. Nearly 40 people will volunteer for "Farmers Serving Families". These volunteers will serve a hot meal at The Banquet in Sioux Falls. Over 100,000 people in South Dakota are food insecure, with over half of those people being children or the elderly. This is an opportunity for those that work in any part of agriculture to give back to their community.
March 7 through 22 local farmers will visit seven elementary schools to help students understand where their food comes from. An area dairy farmer and hog farmer will educate students on how they care for their livestock and help them understand how South Dakota's number one industry affects nutrition and food supply, as well as agriculture's economic, social, and environmental significance to all Americans.
Ag United will do more than talk; they're providing a pizza party too. During the school visits, producers will help the students understand that the ingredients in the pizza are produced by farms, and also explain how those products are then processed and made into the pizza that students are enjoying. Through these visits, farmers will teach more than 500 students about today's agriculture.
"The impact on South Dakota's economy alone from agriculture is over $20 billion," said Richard Vasgaard, Ag United President and Centerville farmer. "On a national scale, agriculture is America's number one export. But it's still easy to take agriculture for granted. We want to instill an appreciation for agriculture in our local youth, advance an awareness of South Dakota's contribution, and promote agricultural literacy."
Ag United, along with its coalition members, Associated Milk Producers, Land O'Lakes, and Valley Queen Cheese and the South Dakota soybean farmers and their checkoff dollars will sponsor Ag Day pizza party events for fourth graders at Koch Elementary in Milbank, Jefferson Elementary in Watertown, Hayward Elementary in Sioux Falls, Webster Elementary in Yankton, Gertie Belle Rogers Elementary in Mitchell, Fred Assam Elementary in Brandon, and Brandon Elementary.
"National Ag Week provides a great opportunity for South Dakota agricultural producers to share the story of where food comes from," added Vasgaard. "And for many of these students this is their first opportunity to learn about agriculture from farmers."
Ag United will participate in Ag Fest for Sioux Falls third graders on March 17th. Ag United will also host an informational booth and kids activities at Ag Day on March 18th. Both activities will be held in the Washington Pavilion.
Each year, the National Ag Day program helps educate millions of consumers. The Agriculture Council of America, organizers of National Ag Day, believes that every American should understand how food, fiber and renewable resources are produced, and value the essential role agriculture plays in providing safe, abundant and affordable products. National Ag Day focuses on educating Americans about the industry, so they can also consider career opportunities in food, fiber, and the renewable resource industry.
Ag United for South Dakota is a coalition of farm organizations with a goal of keeping family farms growing. Coalition members include the South Dakota Cattleman's Association, the South Dakota Corn Growers Association, the South Dakota Dairy Producers, South Dakota Farm Bureau, South Dakota Pork Producers Council, South Dakota Poultry Industries Association and the South Dakota Soybean Association. To learn more or volunteer for any event, visit www.agunited.org.
To learn more about National Ag Day, contact the Agricultural Council of America at (913) 491-1895 or visit www.agday.org.