14 Reason's to Show Farmers Some Love
Posted: 2/12/2016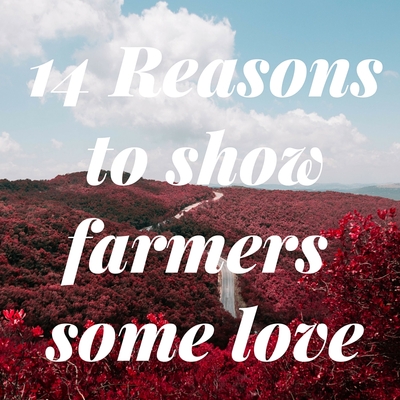 Valentine's Day is this weekend, and as you're reflection on who in your life you love, it should come as no surprise that we LOVE Farmers! There are so many reasons to be fond of the farmers in our state and nation. Below you'll find 14 ways that farmers help make your valentines day special.
Flowers – While we don't typically think of flowers as a crop (unless they're sunflowers), flowers are part of the agriculture industry. Whether it's your local greenhouse, or a farmer growing entire fields of your favorite flower, farmers make this part of Valentines' Day happen.
Cards – You might spend hours picking out the perfect card, or making one of your own. Either way, forestry had a part in bringing that card to your special someone. South Dakota has 500 million trees in forestland and 18 manufacturing sites in the state.1 You could say your Valentine's card was "locally grown"!
Stuffed Animals – There's a good chance that special teddy bear you picked out is stuffed with cotton. Last year, Texas produced more bales of cotton than any other state!2
Chocolate – Cocoa, Sugar, and Milk make up one of the most popular valentines treats, and farmers produce all of these important ingredients. The Ivory Coast is the number one country for producing cocoa3, but the other ingredients are found right here in the US. 200,000 acres of sugar beets are grown in neighboring North Dakota, and our own state produced 246 million gallons of milk!
Bacon Roses – This trend has been taking over Pinterest lately, and it's a great gift to give to the bacon lover in your house.
Strawberries – They're naturally heart shaped, and delicious. What more could you ask for in a Valentine's gift? Farmers in California, Florida, and Oregon produce most of the strawberries in the United States4 and ship them around the country!
Cookie Bouquet – What's better than a bouquet of flowers? A bouquet of cookies! South Dakota farmers grew 70 million bushels of wheat last year, and a majority of wheat goes into food production. Another delicious reason to thank South Dakota farmers on Valentine's day.
Date night dress/suit – There's a good chance your favorite dress is made of cotton. One more reason to thank our neighbors to the South.
New Shoes – The best shoes are made of leather, one of our favorite beef by-products. With nearly 5 cattle for every resident in the state, there should be plenty of new shoes to go around!1
Wine –

Although South Dakota's not traditionally thought of as wine

country, new varieties of grapes are being grown that can survive our cold climate. This means there are a variety of

South Dakota wines

to make your Valentine's Day perfect.

Cheese

– The perfect pairing for your South Dakota wine? Cheese. There are a

number of places

in South Dakota utilizing our state's growing dairy herd and making delicious varieties of South Dakota cheese!

Steak

– Growing up on a beef farm makes this Valentine's item my favorite! Half of the farms in South Dakota raise beef cattle.

1

Beef makes any meal delicious, but a steak is my favorite way to eat South Dakota Beef.

Cheesecake

– Dessert is the best part of the meal, and South Dakota farmers produce the eggs and cream to make a delicious dessert.

Dakota Layers

is the main producer of eggs in the state, and you can find them at many grocery stores!

Popcorn for your movie

– If you're planning a more casual date, a movie is always a good way to go. While a majority corn grown in South Dakota is field corn, there are a few farmers

that grow popcorn

.
Farmers are essential to many parts of life, even Valentine's Day! Many farmers may be giving up their date night to care of their animals, so that we can have the things we need and enjoy. This Valentine's day, find a farmer and show them some love by telling them why you appreciate them!
Listen to the corresponding radio segment here:FARMERS_DAUGHTER-FEB_15TH.mp3
Sources:
http://sdda.sd.gov/
http://www.cotton.org/edu/faq/
http://www.worldatlas.com/articles/top-10-cocoa-producing-countries.html
www.ers.usda.gov
www.sdwheat.org