10 Tips for Getting Your Start in Agriculture
Posted: 10/17/2016
From Women Who've Got the Experience!
by: Rebecca Christman
These tips are based on discussion faciliatated by Denny Everson, and held at the South Dakota Women in Ag Conference. Thank you to everyone that shared their knowledege!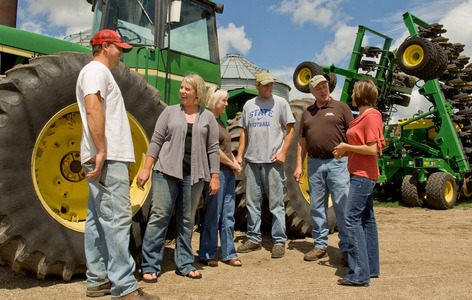 Across the United States, the average age of a farmer is 56. There are more people farming that are over the age of 75 than under the age of thirty-five*. Based on that fact alone, it should be clear that more young people need to choose farming as a career.
Making the choice to farm can be difficult. For other jobs you can interview one day and be hired the next. For farming you need to build capital, buy equipment, rent ground and buy animals. This process can take many years, and requires working more than the standard 9-5. While at the South Dakota Women in Ag conference, we talked about exactly what it takes to start farming. Women with many combined years of experience shared what they wished they had known when they started farming. Below are their top 10 tips for beginning farmers and ranchers.
1) Have a good banker! They will be essential to your success throughout your farming career.
2) Create your own panel of "industry advisors". Be aware of what you don't know, and seek out people that have experience in those areas.
3) Be willing to move. Everyone wants to move back to their hometown, but if there aren't opportunities there to get involved in agriculture search elsewhere.
4) Show commitment and be driven. Show up early, and stay late. Starting a farm won't happen overnight.
5) Use your sweat equity. You may not have land or equipment, but you still have one important asset – yourself! Don't be afraid to be a hired man, drive truck, or help on someone else's farm. You'll gain experience and connections in the agriculture industry.
6) Market yourself. Let people know your "brand". How do you want to be seen, as hard-working, trustworthy, innovative? Make sure the people you work with know that. When they come across an opportunity for young person in agriculture, you'll be at the top of their list.
7) Get involved in your community. If you're a farmer, you will probably be in the same community most of your life. After all, you can't pick up the land and take it with you! Being involved in the community gives you a sense of pride for the area you live, and many other benefits as well! As a young farmer you can be sure that at times you will need to ask for help. Maybe you'll need an extra set of hands to work cattle, or you might need to borrow a neighbor's equipment because you can't quite afford your own. Getting involved in the community is a great way to make connections, and give back to a community that will help you in your time of need.
8) Look for non-traditional opportunities. Even though you have your heart set on being a farmer, that may not happen right away. Looks for jobs where you can still be involved in the industry. Help the local vet work cattle, get a job at the sale barn, or unload trucks at the elevator. You'll never regret having a variety of experiences, or expanding your knowledge of the agriculture industry.
9) Be politically involved. At a time when there is so much negativity towards politics, it would be easy to bury your head in the sand. But, according to our panel of farmer experts this is something they wish they would have done much earlier in life. Whether it's on the local, state or national level there are decisions being made that will have an impact on your farm. This doesn't mean you personally have to run for office, but make the effort to know where you stand on important issues. Then make sure to be informed, vote, and write to your legislators about issues that impact you!
10) "Be proactive for your future, instead of always being reactive." Find out what you are able to do today, and set goals for tomorrow. "He who fails to plan, is planning to fail." –Winston Churchill
The lifestyle may be hard, but for many people it's worth it. If you're a young person looking to get their start, seek out mentors, get experience on a neighboring farm, and most importantly, don't give up! If you're an established farmer, reach out a helping hand to your younger neighbors. We need the next generation of farmers to feed our growing population.
We are so fortunate that these women with years of experience in agriculture are willing to share their wisdom with those of us that are just getting started! Although this discussion was geared towards people trying to enter the field of farming and ranching, I believe the basics of these tips hold true no matter the industry you are trying to break into.
Did you miss this week's Farmer's Daughter radio segment? Listen online now! 10.17.16_Farmers_Daughter.mp3
*Source: National Ag Statistics Service