Saturday, July 15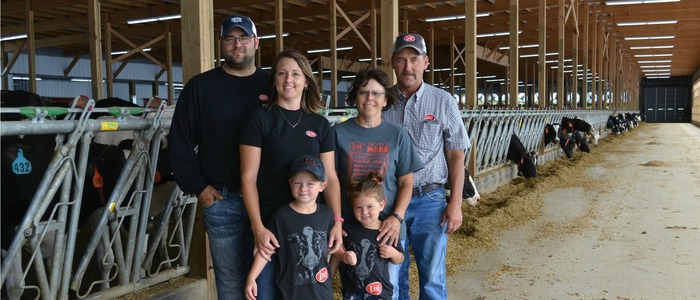 PECHOUS FAMILY HOSTS OPEN HOUSE TO SHOWCASE ROBOTIC DAIRY
Pechous family invites the public to explore modern dairy.
TABOR, SD – Agriculture United for South Dakota has partnered with Bob, Nancy, Kyle, and Erin Pechous to host an open house at the family dairy near Tabor on Saturday, July 15, 2017 from 10am to 1pm. The free, family-friendly event is open to the public and will feature tours of the robotic dairy, free cheeseburgers and brats, and ice-cream. Guests will have the opportunity to see first-hand where the dairy products they enjoy get their start.
The Pechous family has been milking cows on their farm since 1980, and they also operate a feedlot. In 2016 the family wanted to expand the dairy operation on their farm, and started looking into a robotic milking system. After visiting multiple robotic dairies in the area, the Pechous' decided that a robotic system was the best fit for their farm. The family built a tunnel ventilated free-stall barn that houses the 230 Holstein cows and four robotic milking units. The milking is done at the will of each individual cow, between one and six times per day.
"We are excited to have people out to the farm to show the new technology in dairy farming," Nancy Pechous states. "We hope people will leave the farm knowing more about how their milk is made." Kyle Pechous adds, "Everyone is welcome to our farm."
The Pechous Farm is located at 30464 428th Ave., Tabor SD 57063, one mile east and one and a half miles north of Tabor.
The event is sponsored in part by Ag United / South Dakota Farm Families, Midwest Dairy Association, and South Dakota soybean farmers and their check-off.  
At a Glance
Pechous Dairy Open House
10am - 1pm
30464 428th Ave.
Tabor SD 57063