Wednesday, March 28th at 4:30 p.m.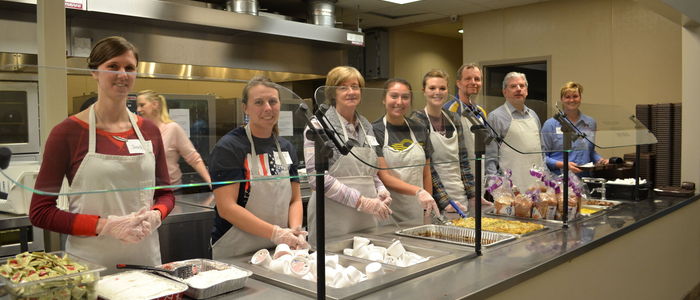 Volunteer for Farmers Serving Families!
For the past several years, Ag United, farm family volunteers, and agriculture professionals have celebrated National Ag Week by serving a meal at The Banquet in Sioux Falls. We will need about 30 volunteers on Wednesday, March 28th, to help serve a meal Banquet West (located at Nordstrom-Johnson Building at W.H. Lyons Fairgrounds). Volunteers are need to help set up, serve a meal, return items to The Banquet downtown after the meal. If you are interested in volunteering please sign up at on the Sign Up Genius Site by March 19 or call 336-3622.
We need: 
*6 volunteers from 4:30 - 5:15 p.m. to help set up. 
*20 volunteers from 5:15 - 8:00 p.m. to serve the meal. 
*4 volunteers from 8:00 - 8:30 p.m. to help unload serving items at the main Banquet location downtown.

Kids are welcome, there a few jobs for children 10 and under. Please wear hair pulled back and closed toe shoes.
At a Glance
Farmers Serving Families
March 28, 4:30 p.m.
Must RSVP by March 19!